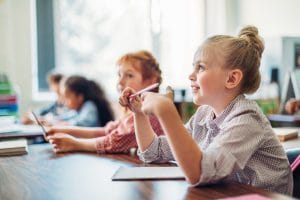 A checkup and dental cleaning before school starts can help little ones enjoy healthy and bright smiles. After all, once the school year starts finding time to see us without missing classes or extracurricular activities can become difficult. In today's blog, your Richfield, MN, dentist discusses the importance of caring for little smiles!
Examining and Cleaning Their Smiles
We will begin by examining your child's smile. The exam's goal is to assess the state of the patient's oral health and uncover possible problems in the early stages, allowing us to treat them before they threaten a smile's health and stability. For children, we typically look for signs of tooth decay, gingivitis, or developing misalignment. We also want to discuss good oral hygiene habits. A cleaning removes the plaque and tartar that accumulates on the smile. Without removal, plaque could weaken tooth enamel and inflame gum tissue, boosting the risk of tooth decay and gingivitis. The cleaning also helps people enjoy fresher breath and brighter smiles! Children should see us about once every six months for a exam and a cleaning.
Brushing and Flossing Daily
Once back home, your kids need to continue to care for their smiles each day. Daily care helps reduce the severity of plaque buildup in between office visits, and lowers the risk of cavities and poor gum health. We suggest brushing teeth twice a day for two minutes each session. Children three and older should use a toothpaste that contains fluoride. Flossing before bed is also crucial, as this removes the bits of food that a toothbrush alone often cannot. Also, consider offering healthier snack choices, as cutting back on sugary foods and drinks could help safeguard the smile against tooth decay.
Our Preventive Treatment Options
During the checkup and cleaning visit, we may also apply prevent treatments to help secure the smile and reduce the chances of a cavity forming. For some, we may apply a fluoride varnish, which coats the teeth and strengthens the outer layers of tooth enamel. The process only takes a few minutes to complete. Since the rear teeth are often difficult for kids to reach when brushing and flossing, we may place a sealant over them. The acrylic coating prevents food from becoming stuck between these teeth, significantly reducing the chances of a cavity developing. If you have any questions, or if you would like to schedule a back-to-school visit, then contact our team today.
Let's Help Your Little One Enjoy Optimal Oral Health!
We would love to work with you to ensure your little ones enjoy healthy smiles. To find out more about our approach to children's dentistry, schedule a consultation with Dr. Keller by calling Cedar West Family Dentistry in Richfield, MN, today at (612) 861-7188.