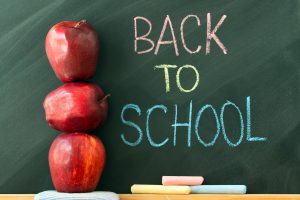 That time of year has arrived! Parents across the country are helping their kids get ready for the new school year. However, before heading back we urge you and your family to stop in and see us. A back to school visit for families in Richfield, MN, can help make sure children start the year with a healthy smile.
Are My Kids Old Enough?
Children should have their first checkup once the first baby tooth arrives, around age one. Which means your pre-school and school age child is definitely old enough for a checkup and cleaning! In fact, they should have one around every six months, just like teens and adults.
Checkups and Cleanings
The checkup allows us to examine the smile for signs of cavities, gingivitis, and developing misalignment. We can then address these issues before they grow more severe. The cleaning involves removing all plaque buildup, which helps prevent tooth decay and gum inflammation. The cleaning also helps ensure fresher breath and a brighter smile.
Fluoride and Dental Sealants
To help kids avoid tooth decay during the school year, we may recommend preventive treatments. For example, a fluoride treatment involves applying a special varnish to the teeth that strengthens the outer enamel. A tooth's natural defenses against cavities and harmful bacteria are then improved. We can also prescribe a dental sealant, which involves applying a special plastic coating to the rear teeth, preventing food from becoming stuck between them. These teeth are often difficult for kids to reach when they brush and floss. The sealants therefor help prevent the onset of cavities. If you have any questions about our preventive procedures and treatments, or if you're ready to schedule a visit for you and your kids, then contact our team today. We're ready to help you start the school year with a healthier smile!
Do Your Kids Need an Exam?
We can offer preventive care to help your little ones get ready to head back to school. To learn more, schedule a consultation with Dr. Keller by calling Cedar West Family Dentistry in Richfield, MN, today at (612) 861-7188.