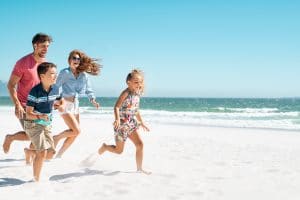 Between vacations, family get-together, and trips to the lake or beach, your summer schedule will fill up quick! So, before things get too hectic, be sure to schedule a checkup and cleaning for your family. Start the summer with a healthier smile and make sure your kids are ready for the coming new year. In today's blog, we're looking at what makes checkups and cleanings so important for families in Richfield, MN.
Checkups
A checkup is a chance for the dentist to assess the state of your oral health. During the exam, we will employ advanced technology in order to obtain a detailed look at your teeth, gums, and jaw. The exam enables our team to identify possible areas of trouble early, treating problems before they require more extensive solutions in the future. We will watch for tooth decay, infection, gingivitis, and gum disease. We also look for jaw joint disorders, such as TMD and bruxism. For adults, we will screen for oral cancer. The earlier we identify common oral health issues, the quicker we can return smiles of all ages to optimal health and function.
Dental Cleanings
Children and adults alike also need to have their teeth cleaned twice a year. The cleaning process involves using a manual tool and an ultrasonic scaler to remove all plaque from the surface of the teeth, a process that limits the risk of tooth decay and gingivitis, and also helps combat bad breath and offer brighter teeth! For optimal oral health, in addition to having plaque removed in dental cleaning, you can reduce the severity of buildup in between your visits with regular brushing and flossing at home. We can answer your questions about homecare and ensure you and your little ones are correctly cleaning your teeth.
Preventive Care for Kids
We also offer special preventive care for children. For example, we can apply a fluoride varnish to the teeth, a process that only takes a few minutes and helps strengthen the outer enamel against harmful bacteria, reducing the risk of cavities. Many kids also have trouble reaching the back teeth when brushing and flossing, which means food becomes trapped between them and the risk of cavities increases. However, by placing a dental sealant on the teeth, we prevent food from becoming stuck between them and help children avoid cavities. If you have any questions about summer checkups, or to schedule a visit for your family, then contact our team today.
Ready for Your Hygiene Visit?
Let's start summer with a healthy smile, schedule a visit for your entire family. To learn more about our approach to family dentistry and preventive treatment options, schedule a consultation with Dr. Keller by calling Cedar West Family Dentistry in Richfield, MN, today at (612) 861-7188.