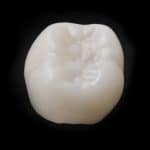 Our last blog was all about how we use fillings to offer a lifelike solution to tooth decay. But what if your tooth needs more than a filling? To provide a greater level of protection and address more serious concerns, your Richfield, MN, dentist may suggest a dental crown! In today's blog, we're going to explain how we create and place a custom-made restoration.
Creating a Dental Crown
Each one will be custom-made for your smile, which ensures a proper fit and prevents imbalance in your smile. We also take this step to ensure it looks natural and blends with your smile seamlessly. To begin, we will remove some structure from the outside of your tooth, and then take detailed images and measurements of your prepped tooth. We use the materials gathered to aid in the design and fabrication process. When you return for a second visit, we will have your custom crown ready. After checking the fit, we will make any necessary adjustments and place the restoration with a powerful bonding agent. In just two visits, we have the ability to address a wide array of cosmetic and restorative concerns.
Lifelike Materials
We employ a variety of materials to ensure your repair looks natural. For the front facing teeth, we often rely on all-porcelain. We use porcelain because the material is tough, able to absorb daily bite forces, and last for years to come. The material is translucent, just like tooth enamel, and we can shade it to blend with your smile. The material also contains stain-resistant properties! Now, the rear teeth must endure greater bite forces and pressures on a daily basis, so we opt for strong materials. Fortunately, both porcelain-fused-to-metal (PFM) and zirconia are tough, and able to be shaded to match your smile.
Benefits for Your Smile
Placement allows our team to repair cracked or broken teeth, and help treat teeth worn down by teeth grinding. We also address more severe cases of tooth decay, and treat teeth suffering from an infection. Our team can correct the shape and color of your teeth too! If you have lost one or more of your natural teeth, then we can help anchor a dental bridge in place, and also complete the visible portions of individual dental implants. If you have any questions about repairing smiles with a custom-made restoration, or about taking steps to ensure optimal fit and a lifelike appearance, then contact our team.
Your Richfield, MN Dentist's Office Offers Custom Crowns
At our Richfield, MN dentist's office, we know how to treat minor and advanced restorative issues, such as cavity or a crack/chip. To find out more about our lifelike and long-lasting dental restorations, then please call Cedar West Family Dentistry at (612) 861-7188.