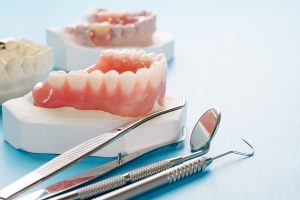 Have you lost one or possibly several of your teeth? If so, then you need to look into a replacement option, otherwise you could risk the loss of additional teeth or an aged appearance. Fortunately, your Richfield, MN, dentists could help those with minor or severe tooth loss with a dental prosthetic.
The Benefits of Replacing Missing Teeth
Did you know that losing a single tooth, or several, means that your remaining teeth could drift from position due to the gaps in your smile? As a result, dental misalignment can occur, leading to a higher risk of tooth decay and gum disease, as cleaning your teeth daily becomes more difficult. Tooth loss also leads to issues with your overall bite balance, increasing the risk of painful jaw joint disorders, like TMJ disorder or bruxism. Finally, missing teeth have been known to complicate the process of eating or even speaking clearly, not to mention the impact on your smile's appearance.
Creating and Maintaining Your New Teeth
If you have between one and three lost teeth in a row, then we may remove structure from the teeth on either side of the gap in your smile and take detailed impressions. Using the impressions and measurements we gather, we will design a dental bridge. Consisting of your teeth new teeth with crowns attached to each end, the prosthetic can last between 10 and 15 years. We place the crowns onto the prepared teeth, securing the new ones. A bridge is easy to care for and we can create them using lifelike materials, such as ceramic, which can absorb bite forces and offer a lifelike appearance. No one will be ale to tell your pontics and crowns are not natural teeth!
Lifelike Full and Partial Dentures
If you suffer from more substantial tooth loss, we can offer custom-made dentures! For people with multiple missing teeth, but not enough to warrant a full denture, we can offer a partial. The prosthetic will consist of an acrylic base that looks like gum tissue, custom-made new teeth, and metal clasps that attach to natural teeth to hold the partial in place. The full will of course replace every tooth on one or both arches, held in place with natural suction.The full will also have a gum-like acrylic base and lifelike replacement teeth. We take steps to ensure your dentures fit comfortably, look natural, and help restore the function and beauty of your smile. We will also provide detailed aftercare instructions to ensure they stay strong and dependable.
Ready to Try Tooth Replacement?
We would like to help you enjoy a full smile and avoid the dangers of tooth loss. To find out more our approach to dental prosthetics, then schedule a consultation with Dr. Keller by calling Cedar West Family Dentistry in Richfield, MN, today at (612) 861-7188.