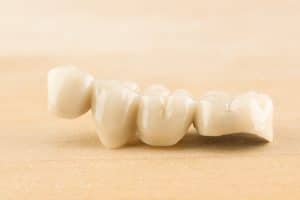 If you have between one and three missing teeth, then you run the risk of developing misalignment and other oral health complications. In order to protect your smile, your Richfield, MN, dentist is prepared with a prosthetic known as a dental bridge. But how does a bridge work, and how long will they last? Can the dentist ensure the finished product looks natural?
Creating Your New Teeth
Each dental bridge we provide a patient is custom-made specifically for that patient's smile. We begin by removing a small amount of tooth structure from the teeth on either side of the gap in the smile. Next, we take detailed impressions and measurements of the smile, including the prepared areas. We use the information gathered to design and craft the prosthetic. The bridge will consist of the replacement tooth or teeth with dental crowns attached to each end. We place the crowns onto the prepared teeth, which secures the new ones firmly in place. We often make them using ceramic, a very strong material that can be shaded to match the color of surrounding teeth. Ceramic also absorbs bite forces and contains stain-resistant properties.
Care and Maintenance
Each day, you will need to brush and floss your natural teeth, as well as our prosthetic. After all, the teeth the crowns are attached to are still susceptible to decay, infection, and gum disease. Ensuring your new prosthetic lasts a full 10 to 15 years means caring for your smile. You will also need to clean the area between the top of the gums and the bottom of the prosthetic, where food could accumulate and potentially increases the risk of tooth decay and gum disease. You should also see us every six months for a checkup and a cleaning. The checkup allows us to watch your new teeth and ensure they continue to provide quality tooth replacement. The cleaning removes plaque and protects your entire smile in the process.
Preventing Complications
Remember, when you fill the gap or gaps in your smile, you limit the risk of misalignment, and with it lower the chances of tooth decay and gum disease. Addressing tooth loss also limits the risk of TMJ disorder and bruxism, common issues that arise when we lose natural teeth. If you have any questions about protecting your smile from tooth loss, or if you're ready to discuss a dental bridge, then please contact our team today.
Ready to Treat Your Tooth Loss?
Our team is ready to address your tooth loss and restore your smile to full function and beauty. To find out more about treating missing teeth and creating a custom prosthetic, schedule a consultation with Dr. Keller by calling Cedar West Family Dentistry in Richfield, MN, today at (612) 861-7188.