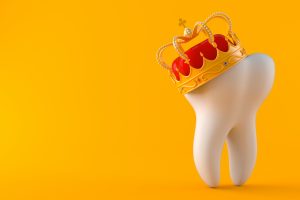 When you have issues that require more than a simple dental filling, your Richfield, MN, dentist may prescribe a dental crown. But what can we do to ensure your crown not only looks natural, but also provides durable repair and restoration? In today's blog, we're going to talk about our lifelike dental restorations.
When Do You Need a Crown?
A dental crown doesn't target a specific area of the tooth, like a filling or even an inlay or onlay. Instead, we use them to completely cover the visible portion of the tooth, which enables them to address a wide array of both cosmetic and restorative concerns. For example, we can mask permanent teeth stains, and reshape malformed or misshapen teeth. We can also repair chips and cracks, and even lengthen worn down teeth. Placement helps anchor a dental bridge in place and also completes a single tooth dental implant. If you have advanced tooth decay or an infection, they can be beneficial as well.
Lifelike Materials We Use
While metal is a very effective means of restoring a tooth, we also take your smile's appearance into account. For example, for the front-facing teeth, we often use all-ceramic, a strong material that contains stain-resistant materials and can be shaded to match the color of your surrounding teeth. However, since the rear and side teeth must endure greater bite forces and pressure, we may opt for zirconia or porcelain-fused-to-metal, which are more durable but also offer a lifelike appearance. We want to make sure your smile is beautiful and instills confidence!
Placing Your Restoration  
The entire process usually takes about two visits. During the first visit, we remove tooth structure from your tooth and take detailed impressions and images. You then leave the office, sometimes with a temporary in place. We use the impression and images to create a new crown. When you return for the next visit, we check the fit and if necessary, make adjustments. We then place them with a powerful bonding agent. The restoration then has the potential to last for decades. To keep them strong and bright, our team recommends routine visits for checkups and cleanings, as well as quality homecare, such as regular brushing and flossing, and a healthier diet with fewer sugary foods and drinks. If you have any questions about protecting your smile's health and beauty, then contact our team today to set up your next consultation.
Does Your Smile Need Repair?
Our team would like to help you enjoy a durable and strong restoration that blends seamlessly with your smile. To find out more our approach to restorative dentistry, then schedule a consultation with Dr. Keller by calling Cedar West Family Dentistry in Richfield, MN, today at (612) 861-7188.