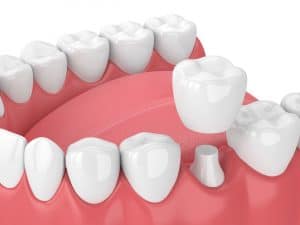 What if you have oral health issues or injuries too severe to be addressed with dental bonding or dental fillings? In these scenarios, your Richfield, MN, dentist will create a dental crown. Each one is custom-made, and often created with materials that ensure a lifelike appearance. In today's blog, we're going to find out how we create and place them!
Designing Your Crown
Each one is crafted to fit your smile, which helps ensure proper restoration. A custom approach also means preserving your bite's balance and alignment, and also that we can use lifelike materials to create a final product that blends with your smile seamlessly. To design one, we start by removing structure from the outside of the tooth. This makes room for your new crown. We then take a series of detailed images and impressions of the prepared tooth, which we use in a dental lab to begin the process of designing and fabricating your restoration.
The Materials We Use
For the front facing teeth, we often use porcelain. Not only will this material absorb daily bite forces but the material is translucent like tooth enamel. The material contains stain-resistant properties, and we can tint it to blend with the rest of your smile. For the side and rear teeth, which must endure greater bite forces and pressure, we have more durable lifelike materials, such as porcelain-fused-to-metal and even zirconia. The option we choose will depend on a number of different factors!
Placement
Once your crown is ready, you will return to the office. Our team will check the fit and if necessary, make some final adjustments. We then place the restoration with a powerful bonding agent, which secures it for decades to come. Routine care, such as daily brushing and flossing and visits every six months for a cleaning, can help ensure your new restoration really lasts, and also protect your natural teeth as well.
When Your Smile Needs One
When do you need one anyway? We may suggest them to treat advanced cases of tooth decay, or to complete a root canal for infected teeth. Repair is also possible for more minor and major fractures and breakage too. We help provide length to the teeth worn down due to injury or teeth grinding as well. If you have missing teeth, we can anchor a dental bridge into place or even restore a single tooth dental implant. Finally, we can address esthetic issue with the shape or color of your tooth as well. If you have any questions, then give our team a call!
Your Richfield, MN Dentist's Office Provides Dental Repair
At our Richfield, MN dentist's office, we're ready to transform the health and beauty of your smile. To find out more about restorative treatment options, then please call Cedar West Family Dentistry at (612) 861-7188.