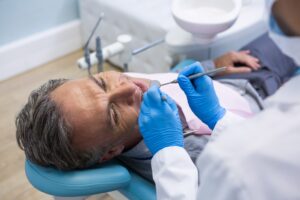 The American Dental Association recommends a checkup and cleaning visit at least once every six months for kids and adults alike. Your smile needs these visits to stay healthy and avoid complications like tooth decay or gum disease. In today's blog, your Richfield, MN, dentist talks about why your smile benefits from a routine preventive visit.
The Dental Exam
The exam portion is how we find out the current state of your oral health. Using digital x-rays and intraoral camera systems, we gather detailed pictures of your teeth and gums, as well as what's beneath the gum line, such as roots and oral structures. From there, we make a diagnosis with accuracy and precision. If we find any oral health issues that require treatment, we can create a plan to address them that fits within your budget and schedule. This benefits people of all ages, with six-month exams recommended for those two years and older.
Cleaning Your Teeth
In the same sitting, we will also clean your teeth. A dental cleaning involves the use of an ultrasonic scaling device and a manual tool to break up and remove all plaque and tartar buildup from your smile. This buildup cannot be removed with brushing and flossing alone, and over time could increase the risk of not only stained teeth and bad breath, but cavities, gingivitis, and even gum disease. After we remove the buildup and then polish the teeth thoroughly, which leaves you with a brighter smile and smoother feel on your teeth. This again benefits people of all ages. While brushing and flossing may not remove plaque, these actions are still vital as they limit how much plaque can accumulate in between your cleaning visits.
Treating Preventive Issues
As part of our preventive approach, we can discuss fluoride treatments and dental sealants for kids, lowering their risk of cavities. For adults, we can address issues like TMJ disorder or even bruxism (chronic teeth grinding) with an oral appliance that is custom-fitted for the smile. We want to help restore your smile to optimal health, function, and beauty, and if possible, to do so before the year comes to end. If you schedule a visit now, you not only receive care before the holiday season becomes too hectic, but you can use your 2021 dental insurance benefits before they expire at midnight on December 31st! If you have any questions, then please contact our team today to learn more.
Talk To Your Richfield, MN Dentist About Preventive Dentistry
Our team wants to help you start a new year with a healthier smile. To find out more about the benefits of a routine exam and cleaning, then contact your Richfield, MN, dentist, Dr. Keller, by calling (612) 861-7188.