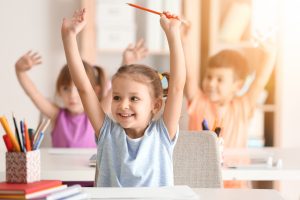 For many families in our community, school will be starting in the next couple of weeks. Getting ready for school often involves picking up new clothes and necessary supplies, but you should also remember your child's smile too. In today's blog, your Richfield, MN, dentist will explain why families benefit from a checkup for kids before school begins!
Your Child's Checkup
A child's checkup is essentially just like yours. Your little one sits down in the chair, and we will ask questions about how often they brush and floss, and then use advanced imaging systems, including digital x-rays and intraoral cameras, to take clear pictures of the smile. These detailed images let us make a diagnosis with precision and accuracy. In addition to looking for signs of tooth decay, infection, or inflammation, we will make sure baby teeth are falling out correctly, and that permanent teeth are arriving without impaction. We also talk to your child about better habits to improve oral health. Studies show these visits are a link to reduced dental anxiety and better oral health habits in adulthood!
Preventive Treatment
In the same visit, we could also discuss special preventive treatments to help lower the risk of tooth decay. For example, we could apply a fluoride varnish with each checkup visit. A naturally-occurring mineral, fluoride helps strengthen the outer enamel to keep a tooth strong and free of cavities. Application only takes a few minutes! We also have dental sealants. Many kids have trouble reaching the back teeth when brushing and flossing, so food particles could become stuck between teeth. This leads to an increased risk of cavities! But with sealants, we place a unique acrylic coating on the rear teeth, which keeps particles from becoming stuck. The sealants stay in place for years to come, as long as ten years in some cases. They then wear away with time.
Good Home Routines
Along with a checkup visit to start the school year, be sure your little one is taking proper care of his or her smile throughout the year. Kids of all ages benefit from brushing and should do so in the morning and at night, using a fluoride toothpaste. Flossing before bed is also necessary, as this removes what is stuck between the teeth. If you have any questions about how we ensure good oral health and preventive dentistry, or if you would like to schedule a visit, then contact our team today.
Does Your Child Need a Visit?
We want to make sure that when your kids start school, they do so with a healthier smile. To find out more about helping your children enjoy better oral health, then please call Cedar West Family Dentistry at (612) 861-7188. You can also find us at 1537 E 66th Street, Suite #101 Richfield, MN 55423.