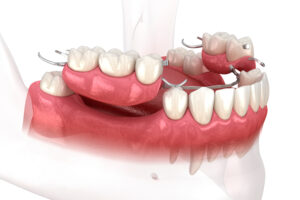 Do you miss having a full arch of teeth to properly chew and speak with? If so, we can help to restore your smile in a few different ways. In today's blog your dental experts at Cedar West Family Dentistry in Richfield, MN, discuss three options to restore missing teeth depending on your individual needs.
A Dental Bridge
If you just have one to three missing teeth, we can easily restore them with a dental bridge. They are a popular choice to regain a full smile. They consist of a false tooth (pontic) that is held in place by dental crowns attached to adjacent natural teeth. They are stable, and durable, and allow for improved chewing and speaking abilities. They help keep the natural alignment of adjacent teeth by preventing them from shifting into the gap. Bridges are permanently attached, so excellent hygiene is important to clean around them. At your dental check-ups, we will provide the tools and techniques for optimal longevity and health.
Partial Dentures
If you are missing multiple teeth but still have healthy teeth remaining, a partial denture may be the right solution for you. They consist of a gum-colored base with natural-looking prosthetic teeth attached to it. The base is secured using clasps that attach to adjacent natural teeth. Partial dentures are removable, easy to clean, and affordable making them a popular choice for many patients.
Maintaining your six-month dental check-up is necessary to ensure the prosthetic is fitting properly and to keep the rest of your teeth healthy. At your dental visits, we will also clean your appliance with a tartar and stain remover to keep it feeling fresh.
Full Dentures
If you've had to have all your teeth extracted due to severe decay or gum disease complete dentures can restore confidence and the ability to chew. They are removable appliances designed to fit the shape of the patient's gums and replicate the beauty of natural teeth. They can restore chewing, speaking, and esthetics bringing back the desire to engage in social activities. To ensure gum health, cleanliness, and optimal fit, regular dental visits are recommended.
Schedule Your Consultation Today
Restoring teeth with bridges, partial dentures, or complete dentures is an excellent option for individuals looking to regain oral function and a beautiful smile. To schedule a consultation, give us a call at Cedar West Dental in Richfield, MN today at (612)861-7188!