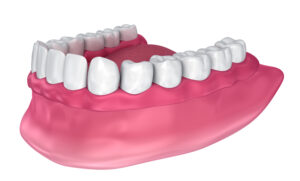 If you've lost most or all of your natural teeth, then you need a prosthetic to restore your ability to smile and eat your favorite foods. For a complete denture, we can offer a lifelike and durable option that restores function and beauty. In today's blog, your Richfield, MN, dentist talks about how we complete smiles with full dentures.
The Impact of Advanced Tooth Loss
Losing your majority of your natural teeth could lead to serious trouble with your smile, and impact your oral health and quality of life. You could be limited in the types of foods you can eat, denying yourself essential nutrients and vitamins. Speaking clearly could be difficult as well. You could feel self-conscious about your appearance. Your smile could lose mass and density as the body suspends the flow of calcium and phosphorus to the jawbone around the missing roots. This leads to a prematurely aged appearance! Essentially, you need to see tooth replacement to preserve your smile and youthful features, so don't delay!
Creating a Full Denture
To begin, our team will take clear and detailed digital images of your smile from multiple angles. We then use these to create a digital impression, one far more accurate than a physical one. This enables us to design and craft your custom denture. The prosthetic will contain a complete row of teeth set in ana acrylic base, one designed to mimic the appearance of gum tissue. Your prosthetic will be able to absorb daily bite forces, and we shade the teeth to look natural. We want your denture to fit comfortably and help you feel proud to smile again!
Removable and Implant-Supported
You could have a removable option, which is held in place with adhesive or suction. These last about 5 to 10 years and need replacement as the jaw ridge gradually changes shape. You will need to clean and soak these regularly. But we could also secure them with multiple dental implants inserted into your jaw. These are fixed in place and never slip when you eat or speak, and don't require removal for cleaning and soaking. You will be able to enjoy a complete smile, one that looks and functions like natural teeth. If you have any questions about how we treat missing teeth, then contact our team today to learn more. We want to help you end 2022 with a full smile.
Do You Have Questions About Rebuilding Your Smile?
We would like to help you smile with confidence once again. If you have any questions about addressing multiple missing teeth, or if you would like to schedule an appointment, contact your Richfield, MN, dentist, Dr. Keller, by calling (612) 861-7188.