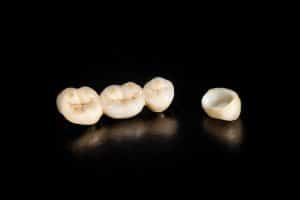 When you suffer from minor tooth loss, you still have a gap in your smile that could cause major complications. Before you experience negative impacts on your quality of life and oral health, you should seek tooth replacement. In today's blog, your Richfield, MN, dentist will explain how we treat tooth loss with a natural-looking dental bridge.
The Dangers of Ignoring Tooth Loss
Losing even one tooth could mean trouble for your smile. For example, did you know that a gap in your smile could eventually cause surrounding teeth to drift from position? The resulting misalignment not only impacts smile beauty, but also increases the risk of tooth decay and gum disease, as brushing and flossing becomes difficult. The changes to your bite's balance due to missing teeth could also lead to the onset of TMJ disorder and bruxism (teeth grinding). For others, there could be complications eating or even speaking clearly!
Crafting a Custom Appliance
To prevent these complications, you need to fill the gap in your smile. For those with between on and three lost teeth in a row, we may suggest a dental bridge. The prosthetic contains one or more replacement teeth with crowns attached to either end. We create them from materials like porcelain, as this ensures they can absorb daily bite forces, and be shaded to blend with your smile.
We start by taking impressions of the abutment teeth, those on either side of the gap in your smile, just after we remove structure from them. We use the impressions and images to design and fabricate the prosthetic. Once complete, we place the crowns on to the prepared abutment teeth, securing the new ones firmly in place.
Maintaining Your New Prosthetic
With proper care, your new bridge could last up to 15 years in some cases. You will need to brush and floss around them, and clean the space between the top of the gums and the bottom of the prosthetic, where food particles could accumulate. These steps not only help ensure your bridge lasts, but also safeguards natural teeth from the factors that cause tooth loss. We also have partial dentures and full dentures for people with more severe cases of tooth loss, and could discuss using dental implants for a more secure and longer lasting replacement option. If you have any questions about avoiding tooth loss, or about addressing the gaps in your smile with a custom dental bridge, then contact our team today. We want to help our patients maintain a full and beautiful smile!
Your Richfield, MN Dentist's Office Offers Custom Bridges
At our Richfield, MN dentist's office, we don't want missing teeth to impact your quality of life and overall health. To find out more about our natural-looking solutions for missing teeth, then please call Cedar West Family Dentistry at (612) 861-7188.