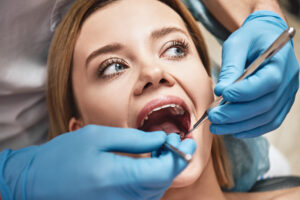 A dental checkup and cleaning should happen every six months according to the American Dental Association (ADA). When was the last time you had a dental exam? In today's blog, your Richfield, MN, dentist talks about what to expect from a preventive visit and why you should have one twice a year!
The Dental Exam
The exam involves our team taking a very close look at your smile. In addition to a visual exam, we will use advanced digital technology too. With digital x-rays and intraoral cameras, we can make a diagnosis with accuracy and precision, identifying the presence of cavities, infection, gingivitis, and gum disease. We also screen for oral cancer too! The sooner we identify these issues, the sooner we can recommend treatment, helping you avoid the need for extensive treatments. You also avoid painful symptoms or the risk of losing a tooth altogether.
Cleaning Your Teeth
Our team will also clean your teeth in the same visit. A dental cleaning is crucial for your smile, as brushing and flossing cannot remove all plaque and tartar from the teeth. Using an ultrasonic scaling device and a manual tool, we will gently and thoroughly remove all plaque and tartar, and then polish the teeth. This helps lower the risk of bad breath, teeth stains, cavities, and even periodontal issues like gingivitis and gum disease. You can then brush and floss daily at home to limit how much plaque forms in the time before your next visit.
Scaling and Root Planing
If you have warning signs of gingivitis or gum disease, such as sore, red gums that bleed easily, then you may need more than a traditional cleaning. Instead, we will offer a deep cleaning known as a scaling and root planing. Using the same ultrasonic scaling device, we will remove buildup from both the teeth and the roots. This could take one to four visits, depending on how extensive the buildup is, and we ensure it is comfortable with anesthesia. We then polish the teeth thoroughly. This can reverse gingivitis and helps manage gum disease. We may recommend traditional cleanings every three to four months afterward.
If you have any questions about how we treat issues like gum disease, or about the need for our preventive visits, then contact our team today to learn more. We want to help you and your family enjoy optimal oral health all year long!
Do You Have Questions About Preventive Dentistry?
We would like to help you enjoy good oral health for years to come with preventive dentistry. If you have any questions about preventive dental care, or if you would like to schedule an appointment, contact your Richfield, MN, dentist, Dr. Keller, by calling (612) 861-7188.