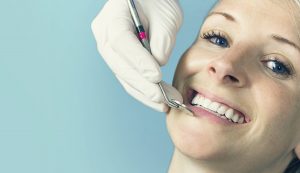 We offer our patients a full array of oral health treatments, such as cosmetic or restorative dentistry. We also offer preventive dentistry, which can allow us to improve oral health and help patients avoid serious complications, such as tooth decay and gum disease.
Checkup and Cleanings
Checkups and cleanings are a major component of any preventive approach. We want to see your smile every six months. During the checkup portion, we will carefully examine your teeth, gums, and jaw joints for any signs of misalignment, malocclusion, tooth decay, infection, gingivitis, or gum disease. We can then offer a possible solution to prevent these issues from growing worse.
We also clean the teeth, which involves removing all plaque and tartar from the teeth using a manual tool or an ultrasonic scaler. Removing plaque prevents the inflammation of gum tissue and protects teeth from decay, while also freshening breath and addressing minor teeth stains. Patients of all ages benefit from checkups and cleanings.
TMJ Disorder and Bruxism Solutions
When we examine your smile, we look at your teeth for signs of wear or friction. These could be indicators of TMJ disorder, which occurs when the jaw joints undergo excessive strain, or bruxism, in which a patient regularly grinds his/her teeth until damage occurs. We can often identify these two issues early on, treating them before you experience difficulty full opening and closing your mouth, or before your teeth are worn down and damaged.
Children's Dental Care
We can offer your children routine checkups and cleanings, as well as fillings and other restorations to address decay. We can also provide preventive treatments, such as fluoride or dental sealants which help protect teeth from the onset of cavities. If you have any questions about our preventive approach to dentistry, then contact our team today.
Talk To Cedar West Family Dentistry About Preventive Dentistry
At Cedar West Family Dentistry, we can offer preventive treatments to help you maintain your smile. Our practice can work with you to provide solutions to common oral health issues. To learn more, or to schedule an appointment with us, call our family dental office in Richfield, MN, today at (612) 861-7188.