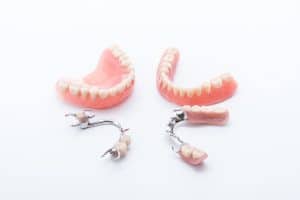 Losing most of your tooth means a bridge may not be enough. So, what happens when you need a new smile? In today's blog, your Richfield, MN, dentist explains how we approach crafting a set of dentures to return function and beauty to your smile, and prevent some complications related to advanced tooth loss.
What Follows Major Tooth Loss?
How does the loss of your natural teeth impact your smile? Well, when you lose a majority of them, this limits what kind of foods you can consume. Soon, you could be relying on only soft foods, unable to enjoy your favorite dishes and denying yourself access to many key nutrients. In addition, this could make speaking clearly difficult too, which complicates your ability to communicate with others. For many, the body will suspend the flow of key nutrients to the portions of jawbone around the missing teeth. Without these nutrients, the bone tissue breaks down and the patient could develop an aged appearance.
Full and Partial Dentures
To restore your smile, we may suggest a set of dentures. For this with substantial missing teeth but not enough to require a full set of dentures, we may prescribe a partial. The partial contains a base made from acrylic that mimics the appearance of gum tissues. There will be lifelike replacement teeth inserted into this base, and a metal clasp will attach to natural teeth and secure your new smile. For those with total tooth loss, or close to it, we could extract the remaining few and design a full denture, with a complete row of new teeth set in an acrylic base and held in place with suction or special adhesive.
Creating a Custom Prosthetic
We want you to not only smile with confidence, but enjoy prosthetics that fit comfortably, prescribing your bite balance, and restoring your ability to eat and speak without complication. Which means each one must be custom-made. We start by addressing any underlying oral health issues behind your tooth loss. Next, we take detailed impressions and images of your smile, which we use in a dental lab setting to design the prosthetics. We will check the fit of your completed dentures to ensure they offer optimal tooth replacement, and provide detailed instructions for cleaning and soaking. With the right care, each set lasts between 5 and 10 years on average, requiring replacement as the shape of the jaw ridge changes.
Your Richfield, MN Dentist's Office Provides Prosthetic Dentistry
At our Richfield, MN dentist's office, we want to help restore the health and beauty of your smile with a custom prosthetic. To find out more about our custom and lifelike dentures, then please call Cedar West Family Dentistry at (612) 861-7188.