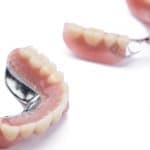 Dentures help restore function and beauty to smiles suffering from advanced tooth loss. However, that doesn't mean the only option available is a full set. Sometimes, we encounter patients that need a partial to protect their oral health. In today's blog, your Richfield, MN, dentist looks at how we create and place a partial denture, and what you need to know about the dangers of tooth loss. A partial may be just what your smile needs!
Bridges vs. Partial Dentures
What's the difference between these and dental bridges? Well, a dental bridge is designed to handle a single gap in the smile, one limited to between one and three teeth in a row. However, some patients with more severe cases of tooth loss may have more than one gap in the smile, spread out across it. Which means a bridge alone wouldn't be enough, but that are still enough natural teeth in place that a full denture is unnecessary.
Creating a New Prosthetic
The prosthetic itself will contain an acrylic base, one designed to match the appearance of gum tissue. There will be natural replacement teeth created from durable materials, like ceramic, so they not only absorb daily bite forces, but blend with the rest of your smile. Metal clasps, which won't be visible when your denture is in place, will attach to natural teeth to secure your new ones firmly in place. They will last about 5 to 10 years, requiring replacement as the jaw ridge changes shape. We will provide detailed instructions for cleaning and soaking to keep your new smile strong!
Keeping Your Smile Whole
Our team can identify the underlying oral health issues that led to tooth loss, so we can make changes to manage problems like gum disease and prevent the loss of additional natural teeth. With simple steps like daily brushing and flossing, and office visits every six months for a checkup and cleaning, we help you maintain a strong and whole smile! If you have any questions about protecting your smile from tooth loss, or about custom-made solutions to address one or more lost teeth, then contact our team today. We're ready to help our patients enjoy better quality of life with routine care.
Your Richfield, MN Dentist's Office Provides Custom Prosthetics
At our Richfield, MN dentist's office, our team wants to help address cases of tooth loss for patients with one missing tooth, or several. We have custom-made dentures, quality bridges, and can even discuss dental implants to help you maintain a full and beautiful smile for many years to come. To find out more about the benefits of a dental prosthetic please call Cedar West Family Dentistry at (612) 861-7188.