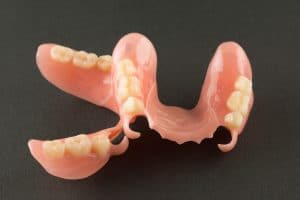 Losing a significant number of your natural teeth could mean serious complications for your smile's health, function, and beauty. In order to restore these gaps and improve your oral health, you need to discuss a prosthetic. In today's blog, your Richfield, MN, dentist will explain how partial and complete dentures can replace lost teeth and restore the smile once again.
Why Have I Lost Natural Teeth?
According to the American Association of Oral and Maxillofacial Surgeons, by age 74 26% of us have lost all of our natural teeth. People may occasionally lose a tooth to accidents or injuries, or possibly as a result of a severe cavity or infection. However, the most common cause of adult tooth loss is gum disease. Unless treatment is administered regularly to manage the disease, the advanced stage, known as periodontitis, can form. Periodontitis actually destroys the tissue connecting your teeth and gums, leading to tooth loss. When we lose a number of our natural teeth, we may experience discomfort due to bite imbalance, a higher risk of TMJ disorder and bruxism, and even trouble eating and speaking.
Partial Dentures
A denture can restore function and beauty to your smile by replacing multiple missing teeth. If you've lost several teeth, but not enough to benefit from a full denture, then we may prescribe a partial. The prosthetic contains a base that looks like gum tissue and is made from acrylic. The replacement teeth will be constructed from ceramic and other lifelike materials. Metal clasps in the prosthetic will attach to natural teeth and secure the new ones in place. With proper care and attention, your partial could last about 5 to 10 years before needing adjustment or replacement as the shape of your jaw ridge changes.
Full Prosthetics
A full replaces every tooth on one or both of your arches. Again, an acrylic base will be crafted to mimic gum tissue, but this will now contain a full set of lifelike teeth, all designed to absorb bite forces and pressure. Natural suction will hold them in place in lieu of metal clasps. Again, they will need to be replaced as your jawbone ridge changes, but until then they will provide dependable tooth replacement. Both fulls and partials will be created based on detailed impressions taken of your smile, ensuring a lifelike and comfortable fit! I you have any questions about dentures, then contact our team today.
Don't Live with Tooth Loss
If you've lost several natural teeth, don't let your oral health continue to suffer. To find out more about addressing missing teeth with a custom prosthetic, schedule a consultation with Dr. Keller by calling Cedar West Family Dentistry in Richfield, MN, today at (612) 861-7188.