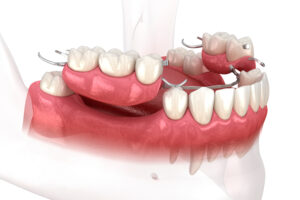 When you have multiple gaps in your smile, this is a complicated case of tooth loss that requires a prosthetic. With a partial denture, we can provide a full smile that looks great. In today's blog, your Richfield, MN, dentist talks about how to secure a new smile with a set of partials.
Creating Partial Dentures
Each set of dentures we provide our patients will be custom-made. This is because every smile is different, and in addition to filling the gaps in your smile, we want to ensure a properly balanced bite as well. A partial contains several new teeth and is designed to fill the multiple gaps in your smile at once, fitting comfortably between your natural teeth. To begin, we will examine your smile and treat any underlying issues that need attention. Our team also perform an extraction if there are several decayed or diseased teeth. Detailed digital images will be taken and used to create a detailed 3D model. The model is then used in a lab setting to design and craft the finished product.
Securing Your New Prosthetics
The partial will contain new teeth, or pontics, set in an acrylic base. The base itself will be designed to look like gum tissues. There will be metal clasps that attach to natural teeth and secure your prosthetic firmly in place. These are removable and need to be taken out for cleaning or soaking, and tend to last about 5 to 10 years, requiring replacement as the shape of the jaw ridge changes.
We could also secure them with dental implants, inserting multiple posts and attaching the prosthetic to them. This creates a fixed denture that never needs to be removed, and preserving the jaw ridge shape so they can last for several more years than a removable option. We can help you decide which option is best for your smile.
Protecting Your Smile
Taking steps to keep your natural teeth in place also helps preserve your prosthetic, allowing you to enjoy better oral health and possibly avoid the need for an eventual full set of dentures. You should continue to brush and floss daily to remove stray food particles and control harmful buildup. You may need a cleaning every six months to remove plaque and tartar, or every three to four months if you have high risk factors for gum disease. A healthy diet low in sugar and starch is also beneficial. If you have any questions about how to protect your oral health or about our dentures, then contact our team today.
Do You Have Questions About Prosthetic Dentistry?
We would like to help treat major gaps in your smile. If you have any questions about replacing missing teeth, or if you would like to schedule an appointment, contact your Richfield, MN, dentist, Dr. Keller, by calling (612) 861-7188.