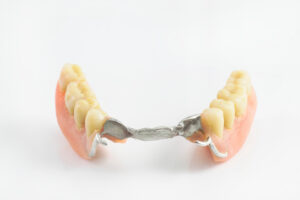 When you have more than one gap in your smile, then a dental bridge may not be enough. Which means to address your missing teeth our team may need to place a partial denture. In today's blog, your Richfield, MN, dentist will discuss how we create and secure a custom-made set of lifelike partial dentures.
Complicated Cases of Tooth Loss
When you have gaps across the arch from each other, this means multiple dental bridges could be necessary, and that extracting teeth to make room for a full denture isn't feasible. A partial addresses this specific issue, with a denture that has sections with teeth set in an acrylic base that looks like gum tissue. There are also metal clasps that attach to natural teeth to secure the replacement ones firmly in place. The prosthetic is removable, which means you can take it out for cleaning and soaking, and this can help prevent common complications of untreated tooth loss, such as misalignment, TMJ disorder, and bruxism (teeth grinding), as well as problems eating your favorite foods or speaking clearly.
Creating a Custom Partial
Each one will be custom-made for your smile. To begin, we will examine your smile to assess the cause and extent of your tooth loss. We may need to offer treatment to address underlying issues behind your missing teeth. Our team will also take detailed digital images of your entire smile, and use them in a dental lab setting to design and craft the finished product. The teeth will be created from materials like ceramic, which we can shade to blend with the smile. They can also absorb daily bite forces and pressure too. Being custom-fitted for your smile means a comfortable fit and a lifelike appearance! With proper care and attention, these can last about 5 to 10 years before changes to the jaw ridge shape mean they need to be replaced.
Protecting Your Smile
To help safeguard your remaining natural teeth, you should continue to brush twice a day with a fluoride toothpaste and floss every evening too. These actions help lower the risk of cavities and gum disease, major factors in tooth loss. You can also benefit from a checkup and cleaning visit with our team every six months, so we can keep a close eye on your smile and remove harmful plaque and tartar buildup.
Do You Have a Complicated Case of Tooth Loss?
We would love to help you maintain a full smile with a custom prosthetic. If you have any questions about how we address more severe cases of tooth loss, or if you would like to schedule an appointment, contact your Richfield, MN, dentist, Dr. Keller, by calling (612) 861-7188.