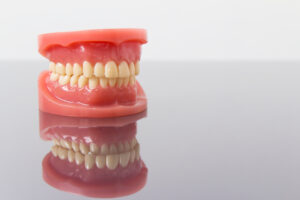 A full set of dentures allows our team to replace every missing tooth on one or both arches. But when is this the right choice for you, and how do we create a custom, lifelike replacement option? In today's blog, your Richfield, MN, dentist talks about how we secure a brand-new and complete smile with our full dentures.
Tackling Your Advanced Tooth Loss
Losing the majority of your teeth means you could feel self-conscious about your appearance, and even have trouble speaking clearly. For others, this complication could limit what meals they can enjoy. To restore function and beauty to your smile, you need to seek tooth replacement. To begin, we will examine your smile to assess the cause of your tooth loss, as we may need to treat underlying oral health issues. Our team may also need to gently extract the last few teeth to make room for the full denture.
Creating a Complete Prosthetic
After we have prepared your smile, we will again take detailed digital images that we can combine to make a 3D computer impression. This accurate and precise impression enables us to design and craft your new prosthetic in a lab setting. The denture will contain an acrylic base that looks like gum tissues and is able to support a full row of teeth crafted from lifelike materials like ceramic. These can be shaded to look natural, and will blend with your facial structure. The lower arch one will be held in place with suction, and a special adhesive can help the upper arch one.
Protecting Your New Smile
We will provide detailed instructions to care for your prosthetics, which can involve cleaning them regularly and soaking them as well. With proper care and attention, they can last five to ten years. Periodic replacement is necessary every few years because the jaw ridge will gradually change shape and alter the fit of your denture. If you receive a particle, which means you still have natural teeth, we can discuss ways to help protect your remaining natural teeth too. If you have any questions about how we address a case of complete tooth loss, then contact our team today to learn more. We want to help you smile, eat, and laugh with confidence and ease, and can handle severe cases of tooth loss.
Do You Need A Complete Prosthetic?
Even if you have total tooth loss, we can still help with a complete and lifelike prosthetic. If you have any questions about how we craft and secure a full denture, or if you would like to schedule an appointment, contact your Richfield, MN, dentist, Dr. Keller, by calling (612) 861-7188. Remember, a full smile is possible, whether you have one missing tooth or have lost all of them!