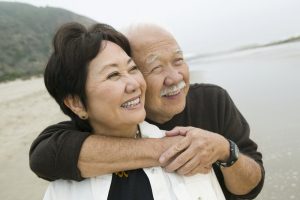 Your smile can be a little harder to share when you are held back by discomfort over having experienced tooth loss. What you should know is that your dentist can offer prosthetic support for patients who have missing teeth. In fact, there are prosthetic treatments available for those who have a single lost tooth, and those who need several replaced. The right restorative dental work can help you confidently flash your smile again. The bridge or dentures provided through your dentist will be made just for you, and will be ideal in appearance and fit.
You Have More Than One Way Of Dealing With Tooth Loss
Bridges, partial dentures, and full dentures can all be provided – the question is what degree of tooth loss you need to address. A dental bridge will allow you to permanently place a prosthetic for a missing tooth, or several adjacent teeth. The bridge uses crowns cemented to neighboring teeth, and will hold your restoration in position. Partial dentures allow you to replace teeth in different areas without disrupting teeth that remain. Full dentures can be used to replace a full upper or lower arch.
Keeping Up With Regular Oral Care To Preserve Your Healthiest Possible Smile
You do not have to give up on your oral care just because you have suffered tooth loss. In addition to providing the appropriate restoration, your dentist can offer regular preventive care through checkups. This allows them to make sure your prosthetic is still in good condition, and continues to provide a comfortable fit. These visits also mean access to care that can help you avoid future concerns.
Talk To Dr. Keller About Receiving A Dental Prosthetic
The right dental prosthetic can help you rebuild your incomplete smile. You can count on Dr. Keller at Cedar West Family Dentistry to offer you a prosthetic that provides an excellent fit, and allows your to feel great about how you look. To learn more about what we can do for your oral health, or to schedule an appointment, call our family dental office in Richfield, MN, today at (612) 861-7188. You can find our patient forms available on our website.