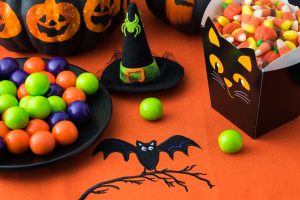 Right now, your children are probably eager for Halloween and trying to figure out what they'll dress up like. We love Halloween too, but as dental professionals we also understand that consuming excessive amounts of candy means a higher risk of tooth decay. How do we protect little smiles in Richfield, MN?
Routine Homecare
One way to safeguard little smiles is to ensure they practice good homecare. We suggest kids of all ages brush their teeth twice a day, once when they wake and again before going to sleep at night. We also suggest flossing every night before going to bed. For your smaller children, you may need to assist them. Routine care helps reduce the amount of plaque buildup that accumulates and decreases the chances of cavities forming.
Halloween Candy Alternatives
What if you and your neighbors decide to offer an alternative to sugary candy? For example, what if you handed out party favors (think Halloween themed, spider rings and plastic skeletons), stickers, or maybe even temporary tattoos. Parents with kids that have allergies to common candy ingredients, such as nuts, can then breathe a sigh a relief, while you reduce the risk of cavities in your own children. After they bring home their candy, we also recommend limiting how much they can eat each day.
Preventive Care
We also have preventive procedures to help strengthen smiles and decrease cavity risk. For example, a cleaning removes all plaque and tartar from the teeth, protecting the outer enamel from erosion. We also offer children fluoride treatments to strengthen outer enamel and dental sealants to prevent food from becoming stuck between the teeth. You can schedule a visit now or after Halloween. Not only do you help safeguard your children's smiles, but you also use your 2018 dental insurance benefits/flex spending account money before they expire at the end of December.
Do You Have Questions About Children's Dentistry?
We're ready to help young children stay cavity-free during the Halloween season. To learn more, schedule a consultation with Dr. Keller by calling Cedar West Family Dentistry in Richfield, MN, today at (612) 861-7188.