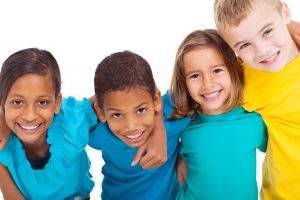 We offer care for the entire family, including children of all ages. Kids need routine and general care, just like adults. Otherwise, minor issues can arise and eventually lead to the onset of major oral health problems. Fortunately, children's dentistry can help protect your kids smile.
Frequently Asked Questions About Children's Dentistry
Question: Will my child benefit from fluoride treatments?
Answer: Fluoride itself is a naturally-occurring mineral that helps strength the outer enamel, the layer that protects the teeth from decay. We can apply fluoride in a varnish, providing greater protection for your child's smile in just a few minutes.
Question: How do dental sealants safeguard young smiles?
Answer: A dental sealant is a thin layer of plastic material that we apply to the rear teeth, which are often difficult for kids to reach when busing and flossing. The sealants prevent food from becoming stuck between these teeth and wear away with time. While in place, they will significantly reduce the risk of tooth decay.
Question: Do baby teeth need fillings?
Answer: Yes! Sometimes parents wonder if since a baby tooth eventually falls out it will need treatment. However, the tooth may fall out months or even years after a cavity forms, so ignoring the problem can lead to discomfort and even premature tooth loss. Fortunately, we can place fillings to address the issue.
Question: How often do kids need checkups and cleanings?
Answer: After the first visit once the first baby tooth arrives, kids need a checkup and dental cleaning every six months. We can monitor the smile and help prevent cavities and gingivitis, while also instilling good dental habits and helping kids avoid dental anxiety. If you have any questions about children's dentistry, then contact our office today.
Talk To Cedar West Family Dentistry About Children's Dentistry
At Cedar West Family Dentistry, we can help kids enjoy a healthy and beautiful smile. Our practice can work with you to provide solutions to common oral health issues. To learn more, or to schedule an appointment with us, call our family dental office in Richfield, MN, today at (612) 861-7188.