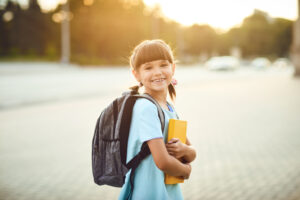 Your kids will be starting a new school year in just a short time, which means now is the time to get ready. In addition to picking up new supplies and clothes, don't forget about their smiles. In today's blog, your Richfield, MN, dentist talks about back-to-school checkups for kids of all ages.
Getting Ready for a New Semester
When your child attends a checkup, we can take a close look with advanced technology to identify areas of concern, and then treat them before they can grow more severe and cause discomfort and threaten tooth stability. Which means we can often complete the treat before school starts as well. For example, a dental filling only takes one appointment to place. Your children can then start school with healthy smiles, and avoid the need to miss classes and extracurricular activities for further treatment.
A Child's Checkup
What does the checkup process involve? Well, we'll first ask your child about his or her oral health habits and answer any questions they may have. We'll then use digital x-rays and intraoral cameras to obtain clear and detailed images of the teeth and oral structures. From there, we can make a durable diagnosis with accuracy and precision. We could identify and address cavities, infections, gingivitis, and even issues like teeth grinding. We also make sure baby teeth are falling out on schedule and that permanent teeth erupt properly. For teens, we can remove wisdom teeth before they threaten the smile's health, appearance, and stability.
Fluoride and Dental Sealants
We could also discuss preventive treatments to help safeguard your little one's smile during the school year. For example, during the checkup and each subsequent checkup visit we can apply a fluoride gel to the teeth. This gel will strengthen the outer enamel and protect the teeth from the onset of cavities. We could also place dental sealants too. This plastic coating covers the rear teeth, the molars that are difficult for kids to reach when they brush and floss. This helps reduce the risk of cavities forming in the more vulnerable part of the smile. The sealants can stay in place for decades to come, possibly a lifetime.
If you have any questions about how we diagnose and treat issues like tooth decay, or about scheduling a back-to-school visit for your kids, then contact our team today to learn more. We want everyone to start the year with their best possible smile!
Do You Have Questions About Children's Dentistry?
Our team wants to help treat smiles of all ages with preventive dentistry. If you have any questions about children's dentistry, or if you would like to schedule an appointment, contact your Richfield, MN, dentist, Dr. Keller, by calling (612) 861-7188.