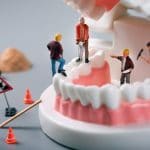 You may have put off your annual checkup and cleaning visits due to the pandemic, but we want you to know we're taking steps to keep you and your family healthy and safe when you visit. This is because your exams are essential for keeping your teeth strong and healthy. In today's blog, your Richfield, MN, dentist is looking at the benefits of a dental exam!
Utilizing Advanced Technology
In addition to performing a simple visual look at your smile, we will employ advanced technology as part of your visit. For example, we will use digital x-rays, which use 90% less radiation, and don't require development in harsh chemicals. Instead, we provide them instantly chairside, offering convenience and less strain on the environment! In addition, we also use intraoral digital cameras to gain a very detailed look at your teeth, gums, and oral structures. Our team then provides a thorough examination with precision and accuracy.
What We're Looking For
We will look at your teeth for signs of tooth decay or infection, or wear and friction that could point to issues like TMJ disorder or bruxism (teeth grinding). The gums will be examined for signs of gingivitis and periodontal disease, and we look at your oral tissues for possible indicators of cancerous and precancerous areas. The earlier we identify a problem then sooner we can provide treatment or refer you to a specialist, and the greater the chance you can avoid the need or extensive treatments. Often, we may even address issues like tooth decay in a single visit with lifelike fillings!
Kids Need an Exam Too!
We also offer these visits for children, starting with an initial exam after the eruption of the first baby tooth. A checkup means we can monitor the smile for signs of trouble, addressing issues like decay or misalignment early. We also have a chance to instill good dental habits and help children understand their oral health, so they can continue to take proper care of their smiles as they reach adulthood. Studies have shown that regular visits also help reduce the risk of dental anxiety! If you have any questions about how we treat smiles and monitor them with routine checkup and cleaning visits, then contact our team today. We would love to see your family soon, especially since school will be starting soon, and free time may be in short supply.
Your Richfield, MN Dentist's Office Provides Preventive Examinations
At our Richfield, MN dentist's office, we use annual visits an opportunity to help people of all ages enjoy their best possible smile. To find out more about our routine dental exams and cleanings for kids and adults alike, then please call Cedar West Family Dentistry at (612) 861-7188.