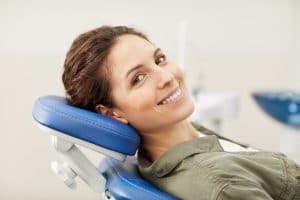 As your Richfield, MN, family dentistry practice, Cedar West recognizes the importance of preventive care for patients of all ages. While regular checkups are extremely important for the developing teeth of children, they are just as important for adults, and can be essential to catching any issues before they get worse.
Cleaning: More Than Just Brushing
The American Dental Association suggests that patients of all ages schedule a dentist visit every six months, even if your teeth are healthy. Flossing at least once a day and brushing your teeth twice daily are great ways to maintain good oral hygiene and a healthy smile at home, but even the most devout teeth cleaners still benefit from a professional cleaning. While brushing and flossing help to keep plaque at bay, tartar- the most stubborn form of plaque- can't be removed by water and toothpaste alone and thus must be removed by a professional. Deep cleaning the sticky plaque deposits on your teeth also helps to rid your mouth of the bacteria that causes tooth decay and cavities, which cannot be fixed at home. So, a professional cleaning not only cleanses your teeth, but helps prevent further issues.
Exams and Restorative Options
At your checkup, Dr. Keller will perform a thorough exam on your teeth and gums to ensure that they are healthy. X-rays may also be used to determine whether you need more extensive treatment, usually a deeper cleaning or a restorative procedure. If an issue is found, Dr. Keller will explain your options. In our office, you never need to be embarrassed about you teeth as we offer a wealth of restorative procedures including fillings, crowns, bridges, and dentures to ensure that your smile stays healthy and confident.
Fighting Disease Through Dentistry
A regular examination is absolutely essential to fighting disease. While we often think about diseases as a reason to visit a medical doctor, there are several diseases relating to our oral health that become more common as we age, such as gingivitis. Gingivitis is the earliest form of gum disease, and the only stage at which it is fully reversible. It is extremely common, affecting almost half of all American adults. When you attend regular checkups, Dr. Keller can catch gum disease while it is still in its earliest stage, giving you the chance to reverse it before it can worsen. If allowed to fester, gum disease can progress to infection with harsh outcomes, such as losing your teeth. This is just one example of an oral disease that can negatively impact your way of life, and thus it is imperative that you stay proactive about your oral health by attending dentist visits at least twice a year.
Is Your Smile Overdue?
Twice-yearly dentist appointments are essential to ensuring your smile remains healthy and beautiful, and can prevent major complications from existing issues. If you are due for a checkup, schedule a consultation with Dr. Keller by calling Cedar West Family Dentistry in Richfield, MN, today at (612) 861-7188.