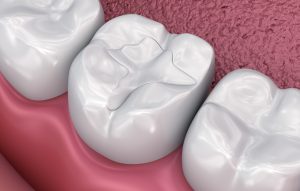 Do you have an aching tooth? If so, then you may need to see your Richfield, MN, dentist. Persistent pain or sensitivity in a tooth could mean a cavity, one that requires treatment to prevent infection and other complications. Fortunately, we have a natural looking filling available to restore your tooth's health and function.
The Warning Signs of a Tooth Decay
If you attend regular checkups, then as we examine your smile, we can identify the presence of decay in the earliest stages, pinpointing problem areas before you experience discomfort. Otherwise, you may not know you have a cavity until you experience tooth sensitivity and toothaches. At this stage, you may have developed advanced cavities or even a dental infection. If you have pain in your tooth that doesn't subside, then let us know right away.
Lifelike Dental Fillings
We will often fix your cavity using a dental filling. Made from a metal-free composite resin, the restoration will be shaded to match your remaining tooth structure. After we remove the decay and clean the tooth, we apply the filling material, shaping the tooth as the composite resin cures under a light. We then polish the tooth, ensuring a more natural appearance. The entire procedure only takes a single visit to complete.
Preventing Dental Infections
Treating your cavity quickly helps prevent a dental infection. If an infection arises, then we may need to perform a root canal procedure. Otherwise, an infected tooth could mean the infection reaches surrounding teeth and the moves into the jawbone. We would need to remove the tooth entirely to prevent this from occurring. To maintain a whole and healthy smile, please see us at the first signs of discomfort, so we can discuss treatment options and restore your smile to optimal health, function, and appearance. If you have any questions or concerns, then please feel free to give our team a call.
Does Your Tooth Ache?
Custom-made restorations help you enjoy a comfortable and healthy smile. To learn more, schedule a consultation with Dr. Keller by calling Cedar West Family Dentistry in Richfield, MN, today at (612) 861-7188.