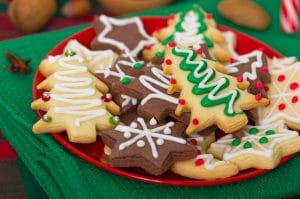 Even though Christmas is over, you probably still have plenty of sugary sweets leftover from the holidays. While an occasional Christmas cookie is a fun treat, too much sugar could lead to the onset of cavities. How do our Richfield, MN, patients avoid the onset of cavities after the holiday season?
The Dangers of Sugar and Starch
When we eat foods high in sugar and starch, the particles left behind on the teeth will be broken down by bacteria. In the process, oral acidity often increases and a bacterial byproduct forms on the teeth. Known as plaque, this byproduct actually weakens tooth enamel, leading to cavities. In addition, the plaque buildup also inflames gum tissue, which makes the risk of gingivitis and gum disease higher. In addition to obvious threats, like candy, cakes, pies, and cookies, know that muffins, biscuits, stuffing, corn bread, mashed potatoes, and sweet potatoes are also a source of starch.
Warning Signs You Need to Know
When you undergo a routine checkup every six months, we will look for the earliest possibly indicators of cavities, treating the issue before you experience pain. Without these visits, you're not likely to know you have a cavity until you begin to notice tooth sensitivity and toothaches. If you experience pain that lasts more than 48 hours, then let us know right away. Without treatment, tooth decay could eventually lead to an infected tooth!
Tips for Keeping Your Smile Free of Tooth Decay
First, limit how much sugar and starch you consume each day and be sure you wash them down with a glass of water, which helps cleanse the mouth. You should also brush your teeth when waking up and again before bed, for two minutes each time (and using a toothpaste containing fluoride). You need to floss nightly and see us twice a year for checkups and cleanings.
Do You Need Dental Care?
With preventive care, we can help your family enjoy a healthier smile in 2019. To learn more, schedule a consultation with Dr. Keller by calling Cedar West Family Dentistry in Richfield, MN, today at (612) 861-7188.