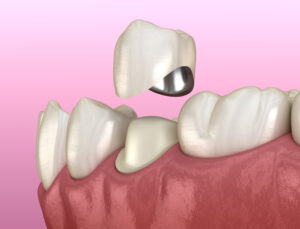 We offer restorative dentistry to treat issues that could threaten the stability of your smile, repairing damaged or decayed teeth. In today's blog, your Richfield, MN, dentist could talk about how we repair teeth with a custom dental crown, and what makes them such a lifelike and durable dental restoration.
When We Recommend A Full Restoration
A crown covers the entire visible portion of a tooth, which makes it a great choice to address issues too severe to be treated with a filling or dental bonding. For example, our team could treat cavities too advanced for a filling alone, or we could repair chipped, cracked, and worn-down teeth too. The restoration could reshape malformed teeth to improve bite balance and chewing function too. We've also used them to address missing teeth too! Placement could be used to secure a dental bridge or to even restore a single tooth dental implant.
Creating and Placing a Dental Crown
Each one is custom-made for your smile, as every smile is different. The custom nature ensures a proper fit and a balanced bite, and also a lifelike appearance too. To start, we will numb the tooth and then gently remove structure from it. Afterward, we take detailed digital images and impressions to design and craft the restoration with precision and accuracy. When the restoration is ready, you will return to the office so we can check the fit and make any necessary adjustments. When the crown is placed with a powerful bonding agent, this could allow it to last for years to come.
Taking Steps to Protect Your Smile
You can also take steps to safeguard the restoration and at the same time, protect your natural teeth as well. You should brush and floss every day without exception, and also try to cut back on sugary foods and drinks too, as this feeds harmful oral bacteria. An appointment every six months for a checkup and cleaning is a good idea too, so we can watch for signs of trouble and address concerns before you develop discomfort.
If you have any questions about how we restore smiles to a stronger and healthier state, or about our approach to lifelike denial crowns, then contact our team today to learn more. We want to help you and your family enjoy optimal oral health!
Do You Have Any Questions About Our Restorations?
We want to return your smile to optimal function, health, and beauty again with our custom approach to restorative dental care. If you have any questions about rebuilding your smile and safeguarding teeth and gums from poor oral health, or if you would like to schedule an appointment, contact your Richfield, MN, dentist, Dr. Keller, by calling (612) 861-7188.