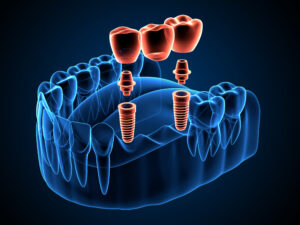 We recently talked about dental crowns and how they repair teeth that have been damaged or decayed. But we can also use them to replace one or more missing teeth by securing a dental bridge in place, addressing between one and three lost teeth in a row. In today's blog, your Richfield, MN, dentist talks about addressing the gaps in your smile!
What Happens Following Tooth Loss
When we lose our teeth, this causes a number of complications for our oral health. First, the gap could impact smile esthetics and cause you to feel self-conscious. Depending on the location, your missing teeth could limit the foods you can eat and even make speaking clearly a difficult process. The gap also makes surrounding teeth drift from position, causing misalignment. Poor alignment also harms your smile's esthetics, and increases the risk of tooth decay and gum disease too. The strain on your jaw joints from tooth loss also increases the risk of painful complications like TMJ disorder and bruxism (chronic teeth grinding).
Creating A Dental Bridge
To avoid these complications, you need to fill the gaps in your smile with a prosthetic. For more minor cases, we could recommend a dental bridge. To begin, we will administer a local numbing agent and then remove structure from the teeth that sit on each side of the gap, known as abutment teeth. We then take detailed digital images of these teeth and use them to help design and craft your prosthetic. The finished product is made from ceramic, a strong material that we can shaded to blend with the rest of your smile. The prosthetic consists of new teeth, known as pontics, with crowns attached to each end. The custom nature ensures a lifelike appearance and a comfortable fit.
Supporting Your New Teeth
For traditional bridges, we attach the crowns to your abutment teeth, and the prosthetic will last between 10 and 15 years on average. However, we could also insert free standing dental implant posts and attach the crowns to them instead, which saves tooth structures and also allows your new prosthetic to last for decades to come, possibly a lifetime! If you have any questions about how we address missing teeth with implant bridges or traditional ones, then contact our team today to learn more. We want you to smile with confidence and enjoy good oral health and function for years to come.
Do You Have Questions About Dental Bridges?
Our team wants to offer a durable and custom solution to your lost teeth, so you can enjoy better oral health. If you have any questions about replacing your missing teeth with a natural-looking dental prosthetic, or if you would like to schedule an appointment, contact your Richfield, MN, dentist, Dr. Keller, by calling (612) 861-7188.