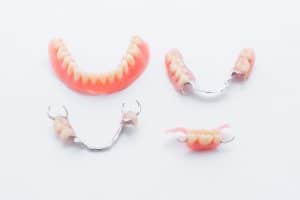 For minor tooth loss, we often talk about dental bridges or perhaps even a single tooth dental implant. But what about cases in which a patient has lost several, if not all, of his or her teeth? In order to preserve facial structure and restore health and beauty to the smile, we may offer patients in Richfield, MN, a custom-made full or partial denture.
Why Am I Missing My Natural Teeth?
As we grow older, our risk of losing teeth increases. However, routine care can often help reduce the risk of tooth loss. The most common cause of adult tooth loss is periodontitis, the advanced stage of gum disease. By managing gum disease with routine cleanings and proper homecare, or preventing the onset completely, you limit the chances of losing teeth. In addition, untreated cavities or infection could impact your smile's stability, so always seek treatment if you encounter aching teeth. You should be brushing and flossing daily from home, and seeing us for regular checkups and cleanings every six months. If you encounter soreness in your teeth, or bleeding in your gums, then please see us right away for a diagnosis.
Partial Dentures
If you've lost several teeth, even if they're spread out across the arch, then we may suggest a partial. For patients that don't yet need a full prosthetic, this option restores function and beauty to your smile. The prosthetic contains your new teeth, but with metal clasps that attach to remaining natural ones, securing the prosthetic firmly so you can eat and speak with confidence. The partial will be custom-made using lifelike materials, ensuring your new teeth reflect your facial structure and blend with your smile.
Complete Dentures
If you've lost all of your teeth, or a vast majority of them, then a full may be the best option. Complete dentures contain all the teeth for one or both arches. Set in an acrylic base that mimics the appearance of gum tissue, they will be held in place with natural suction. You may also use a special adhesive to help improve stability. As with the partial, we custom-make them using lifelike materials, as we want your new smile to look natural and fill you with confidence. If you have any questions about avoiding tooth loss, or if you're ready to discuss dentures, then contact our team today. We will work with you to provide a dependable and custom set of dentures, returning your smile's health, function, and appearance.
Do You Have Missing Teeth?
For those with advanced tooth loss, we have custom-made dental prosthetics. To learn more about addressing severe tooth loss, schedule a consultation with Dr. Keller by calling Cedar West Family Dentistry in Richfield, MN, today at (612) 861-7188.