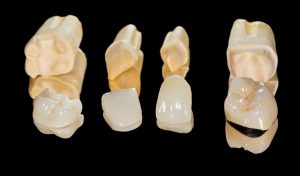 We have a number of treatment options to restore a tooth, whether one has developed tooth decay or major damage. In many cases, we may recommend a custom-made dental crown. What situations call for a crown? What should a patient expect from the placement process?
When Do We Prescribe a Crown?
We may recommend one to address a tooth that has been broken or fractured. We can also lengthen worn down teeth and reshape malformed teeth. We've can use a restoration to repair advanced decay or address a dental infection. They can also aid in tooth replacement, whether anchoring a dental bridge in place or restoring a single tooth dental implant.
What Materials Will They Be Made From?
That depends! For teeth near the front of the mouth, we tend to opt for ceramic. The material can be shaded to match surrounding teeth and offers the same translucent appearance as natural tooth enamel. Teeth near the back of the back must endure more serious bite forces, so we tend to opt for zirconia or metal due their increased strength. We will sit down with you to discuss your options and which material might be best for your smile.
How Do You Place One?
We first prepare the teeth by removing a small amount of tooth structure and taking detailed impressions. The impressions will be used to design and create the restoration. The patient then returns for a second visit, during which we check the fit and make any necessary adjustments. We can then place the completed restoration with a powerful bonding agent. If you have any questions about the process, or if you think your smile could benefit from a lifelike dental crown, then contact our team today.
Talk To Cedar West Family Dentistry About Dental Crowns
At Cedar West Family Dentistry, we can create custom-made restorations to help patients enjoy healthier and more beautiful smiles. Our practice can work with you to provide you with care that preserves your appearance and protects your oral health. To learn more, or to schedule an appointment with us, call our family dental office in Richfield, MN, today at (612) 861-7188.