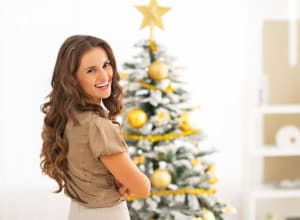 Want to start this festive season with a more beautiful smile? If so, it's not too late to call your cosmetic dentist. From professional whitening to teeth bonding and contouring, there are a number of fast and affordable ways a cosmetic dentist can help enhance the natural beauty of your smile. By hiding or correcting esthetic imperfections, cosmetic treatment allows you to ring in the holidays with a truly dazzling smile.
Have You Heard of Bonding, Contouring?
Bonding is a simple procedure that enables the dentist to help correct teeth issues quickly and affordably. In fact, it can generally be completed in less than an hour during a single office visit. This treatment involves applying the same composite resin material favored for many modern dental fillings to the teeth, and then sculpting it to help create a more symmetrical smile. Bonding can fix disproportionally small or misshapen teeth, and even gaps between some of your teeth.
Contouring is similar, but it involves gently filing away portions of any teeth that appear disproportionally large or jagged. It too can be completed in under an hour, and generally requires no sedation.
Many patients prefer to combine these treatments in order to create their ideal smile, one that is even and symmetrical in both teeth size and spacing.
Want Brighter Teeth?
If you're also concerned about the coloration of your teeth, or are bothered by deep staining, professional teeth whitening can help. Unlike over-the-counter alternatives, professional whitening is designed to help provide dramatic results, fast.
If you want to have a smile that is truly merry and bright this holiday season, it's time to schedule an appointment with your cosmetic dentist.