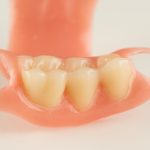 When you suffer from more serious cases of tooth loss, a bridge may not be enough to properly correct your smile. In today's blog, your Richfield, MN, dentist will explain how we help complete your smile with a lifelike and durable prosthetic known as a partial. You can once again enjoy a full smile, one you can't wait to show the world, and also safeguard the health and function of your smile.
When Do I Need One?
A partial is meant to address severe cases of tooth loss, usually in which there are multiple gaps spread out across your smile's arch. Some cases may not be severe enough to warrant removal of teeth to support a full denture, so a partial lets us preserve more of your natural teeth and restore your smile to optimal function, health, and beauty. Placement helps prevent common complications linked to tooth loss, such as dental misalignment and bite imbalance. You also eat your favorite foods again, and can smile with confidence.
Crafting a Lifelike Prosthetic
We begin by taking a series of detailed images and measurements of your smile. The resulting information is then used in a dental lab setting to design and craft the prosthetic. Each one consists of a base made from acrylic, one that looks like natural gum tissue. The new teeth will be crafted from ceramic, a durable and lifelike material. The prosthetic will have metal clasps that attach to natural teeth and secure your denture, but will be visible when your new teeth are in place.
Maintaining Your New Smile
The partial will be removeable, so you will need to take it out for soaking and cleaning. On average, they tend to last about 5 to 10 years before needing replacement as the jaw ridge changes shape. Along with caring for your denture, routine smile care, such as brushing and flossing, and visits for checkups and cleanings, help prevent further tooth loss by controlling the risk of tooth decay and infection, and managing issues like gum disease. If you have any questions about finally tackling your tooth loss, or about how we design and craft a prosthetic that looks natural and fits comfortably, then please contact our team today. We would love to help you enjoy your best smile with a custom-made partial denture!
Your Richfield, MN Dentist's Office Treats Missing Teeth
At our Richfield, MN dentist's office, we want to help you enjoy a complete smile with a removable prosthetic. Our team can offer custom-made partials, as well as full dentures and even dental bridges. To find out more how about tackling more severe cases of missing teeth and preventing major complications for the health and beauty of your smile, then please call Cedar West Family Dentistry at (612) 861-7188.