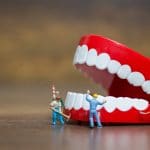 When a tooth requires treatment for discoloration or damaged teeth, you may assume multiple cosmetic procedures will be needed to restore the beauty of your teeth. However, your Richfield, MN, dentist may be able to transform your smile in one visit with dental bonding and contouring.
Dental Bonding
The bonding process begins with the dentist cleaning your tooth and gently etching the surface. We then prepare the composite resin material, a unique blend of glass and acrylic that can be shaded to match the color of tooth structure. We use the same material in our tooth-colored dental fillings! We apply the material in several different layers, and then sculpt and mold the tooth as we cure the composite resin under a light. Treatment could not only repair minor cracks or chips, but also lengthen teeth worn down due to bruxism, close unsightly gaps between teeth, and even mask permanent teeth stains, the kind that would not otherwise respond to most teeth whitening treatments! All of this is possible in only one sitting, too!
Contouring Your Smile
In the same visit, we could also contour your teeth. Treatment doesn't involve adding special materials to the tooth. Instead, we gently sand and buff the outer structure to address cosmetic issues. For example, we can remove any pits, grooves, or rough patches in the surfaces of the smile. We also reshape overly large or pointed teeth, and even correct small chips. Again, the entire process only takes one visit!
Protecting Your Smile
We often use these treatments to address minor damage, but you could lower the risk of damage by taking a few precautions. For example, be sure you wear a mouthguard when playing sports or engaging in other activities that could damage teeth, like boxing or martial arts. Take care of your smile too, as tooth decay could weaken your structure. For example, brush and floss daily, and be sure to attend routine six-month checkups, too. Routine visits offer a chance for us to monitor your smile and diagnose possible areas of concern in the earliest stages. If you have any questions about repairing smiles in one visit with dental bonding and contouring, then please contact our team today. We also offer other unique cosmetic treatments, including professional teeth whitening and custom-made porcelain veneers.
Talk To Your Richfield, MN Dentist's Office About Cosmetic Dentistry
At our Richfield, MN dentist's office, we want to help patients in our community enjoy a brighter and more attractive smile! We have solutions designed to address the shape and color of your teeth, and often in a single sitting. To find out more about how we treat and correct common esthetic issues in one visit, please call Cedar West Family Dentistry at (612) 861-7188.