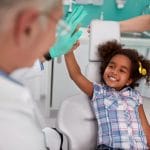 National Children's Dental Health Month is celebrated in the United States each February. However, even though the month is almost over, it is always important to be thinking about your child's dental health, as dental health and development is a central part of their overall health and development. In today's blog, your Richfield, MN, family dentist will share some ways that you can keep your child's teeth healthy at home, as well as the importance of bringing your child to a dental checkup every six months.
Setting a Good Example at Home
Your child will learn many things from watching you, including their oral hygiene routine. So, it is important that you model great habits, such as:
Storing your toothbrush properly so that the bristles can dry
Brushing your teeth twice daily, making sure to brush the backs of your teeth as well
Brushing for two full minutes each time
Brushing your tongue
Flossing thoroughly every day
Following these suggestions will not only lead to an improvement in your own dental health, but it will help your child to create healthy habits that they can carry through the rest of their lives.
Using Fluoride
Fluoride is a naturally occurring mineral that has strong cavity fighting powers. So, it is important that you always choose a toothpaste, both for yourself and your child, that contains fluoride. When the fluoride in toothpaste comes in contact with fluoride present in your child's mouth from food or water, the fluoride works together to strengthen your child's teeth to prevent against cavities and can even remineralize areas that have begun to decay, reversing the process!
Helping Soothe Nerves
At Cedar West Family Dentistry, we know that going to the dentist isn't everyone's favorite thing to do, and that it can even be scary thanks to several undeserved media portrayals. While our friendly staff works to make you and your child feel comfortable, you can help to soothe your child's nerves by taking them with you to your appointments, reading books or watching videos about the dentist, and by modeling calm and happy behavior while in our office.
Keeping Regular Appointments
You and your child should attend regular appointments for checkups and cleanings every six months, so you may find it helpful to schedule them for the same day. Having you there can help to relieve some of the anxiety your child might be feeling, and they can mimic your behavior. At a child's checkup, our staff will check your child's mouth for any signs of decay or other issues with their dental health or development. We will also thoroughly clean your child's teeth, taking away the plaque and tartar that can build up and cause cavities. If there is anything that worries us, we can discuss preventative care like fluoride treatments and dental sealants or, in the case of decay, restorative care like a filling. Keeping regular appointments will allow us to monitor your child's dental health, keeping them on the right track through their development.
Schedule an Appointment Today
Your child's dental health is important to their overall development. If your child is due for a checkup, schedule a visit with Dr. Keller by calling Cedar West Family Dentistry in Richfield, MN, today at (612) 861-7188.