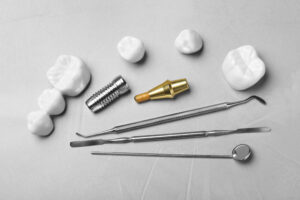 When you have a gap in your smile, this could soon lead to major issues with the function and appearance of your smile. But we can help by replacing missing teeth with a lifelike dental prosthetic. In today's blog, your Richfield, MN, dentist talks about how we craft and place custom-made dental bridges.
The Causes and Dangers of Tooth Loss
Our teeth could become lost for a number of different reasons, such as untreated cavities or infection, an injury, or in most cases, the advanced stage of gum disease. When a tooth is lost, this could upset alignment as nearby teethed drift from position. The resulting misalignment then increases the risk of tooth decay and gum disease too! In addition, the changes to your bite balance due to tooth loss could strain the jaw joints and lead to complications like TMJ disorder or even bruxism. Not to mention the issues with speaking clearly or even eating your favorite foods!
Creating a Bridge
To address between one and three missing teeth in a row, we can create a dental bridge. To begin, our team will numb the teeth on either side of the gap, which we refer to as abutment teeth. Once we do, we will remove structure from them and take detailed digital images of them. In a dental lab, we use these images and impressions to design and craft the bridge. The prosthetic will contain new teeth, known as pontics, with crowns attached to each end. We craft them from materials like ceramic, which can be color matched to blend with your smile, and also absorb daily bite forces and pressures like natural teeth too.
Securing Your New Teeth
The abutment teeth will receive the crowns, which secure the new teeth firmly in place. There are removable and fixed options, but in most cases, they're fixed in place, so you don't need to remove them for cleaning or soaking. But you should brush and floss them, and clean the space between the top of the gums and the bottom of the prosthetic. For some, we could discuss inserting dental implants and attaching crowns to them, as these can last far longer than traditional crowns, decades versus 10 to 15 years.
If you have any questions about how we replace missing teeth or create and secure a custom dental bridge, then contact our team today to learn more. Care now means you can use your benefits before they expire in December!
Do You Have Questions About Prosthetic Dentistry?
Our team wants to help you correct minor tooth loss. If you have any questions about replacing missing teeth, or if you would like to schedule an appointment, contact your Richfield, MN, dentist, Dr. Keller, by calling (612) 861-7188.