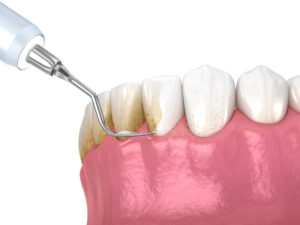 Our previous blog was all about checkups and how they help protect your oral health. But in the same visit, we also clean your smile to prevent major oral health concerns. In today's blog, your Richfield, MN, dentist talks about how we can boost your overall oral health with a dental cleaning.
The Impact of Plaque Buildup
Over time, the foods we eat and the drinks we consume leave behind particles of sugar and starch. These will cling to the outside of the teeth or become stuck between them. As bacteria breaks them down, this increases oral acidity levels and coats the teeth in plaque buildup. The layers grow in severity with time, and harden into tartar. Without removal, they can lead to bad breath, teeth stains, cavities, and even gingivitis and gum disease. Which is why cleaning is necessary, this is the only way to completely remove these harmful layers from the outside of your teeth.
Keeping Teeth Clean
A dental cleaning is recommended every six months, and if you haven't had one lately there is still time to schedule your last one of 2022! You can even use your dental insurance benefits before they expire at the end of the month. The process is a simple one. Our team will use an ultrasonic scaling device and a manual pick to gently and thoroughly remove all plaque and tartar from the teeth. We then polish the smile for a brighter appearance. The process is only a few minutes, and helps protect the health of your smile. At home, you need to brush twice a day for two minutes and floss every evening to help control the amount of buildup that coats the teeth before your next checkup and cleaning visit!
Scaling and Root Planing
If you have warning signs of gingivitis or the early stages of gum disease, such as sore, red, gums that bleed easily, you may need a deep cleaning. With this procedure, we use the ultrasonic scaling device and manual tool to break up and remove all plaque and tartar from both the teeth and the roots. We will administer a numbing agent to keep you comfortable and this could trek one visit or up to four, it depends on the severity of your buildup. We then polish the teeth. This could reverse gingivitis, and allow us to manage gum disease moving forward with the usual cleaning every three to four months.
Do You Have Questions About Removing Harmful Buildup?
Our team wants to help safeguard your smile against serious issues like gum disease. If you have any questions about protecting your oral health, or if you would like to schedule an appointment, contact your Richfield, MN, dentist, Dr. Keller, by calling (612) 861-7188.