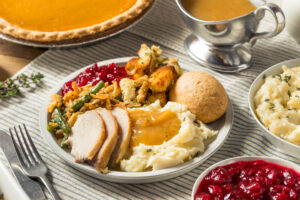 When you sit down for your Thanksgiving meal, you may not be thinking about the impact of all that sugar and starch. But without a few precautions, this could mean the onset of tooth decay! In today's blog, your Richfield, MN, dentist talks about how you and your family can reduce your risk of holiday-related tooth decay.
Thanksgiving and Tooth Decay
We all have Thanksgiving and holiday favorites, and often many of these contain a lot of sugar or starch. For example, stuffing, mashed potatoes, sweet potato casserole, and biscuits and rolls all have tons of starch. Desserts like cake, cookies, cobbler, and pie all have sugar. When you consume these items, this coats the teeth in a layer of plaque buildup. The buildup then weakens and erodes enamel to make cavities possible, and is also linked to bad breath, teeth stains, and even periodontal problems! Which is why we want to help you safeguard your smile during the holidays and avoid aching teeth and tooth decay in 2023.
Protecting Your Smile
First, you can enjoy your sugary and starchy favorites in moderation, balancing your plate with other options. You should really consider adding plenty of fresh fruits and vegetables, especially items like carrots, broccoli, and apples, which help scrub away food particles as you consume them. Along with tea and other holiday beverages, drink plenty of water to help rinse away sugar and starch. When you're done eating, you can also excuse yourself to floss.
Even during your holiday excursions, you need to practice good oral hygiene. We recommend you start your day by brushing for two minutes and then doing the same before bed. Be sure you use a fluoride toothpaste to strengthen your enamel. Before bed you also need to floss too, as this removes what could be beyond the reach of a toothbrush's bristles.
Checkup and Cleaning Appointment
Before the holiday season becomes stressful, and before your 2022 dental insurance benefits expire, you should consider one last checkup and cleaning for you and your family. We will examine your smile and identify areas of concern that need attention, offering fillings in only one visit! In addition, we can clean your teeth to remove all buildup and ensure you greet a new year with a stronger and brighter smile. If you have any questions about safeguarding your smile during the holiday season, then contact our team today.
Do You Have Questions About Preventive Dentistry?
We would like to help you avoid tooth decay and other serious oral health concerns. If you have any questions about treating the health of your smile and preventing cavities, or if you would like to schedule an appointment, contact your Richfield, MN, dentist, Dr. Keller, by calling (612) 861-7188.