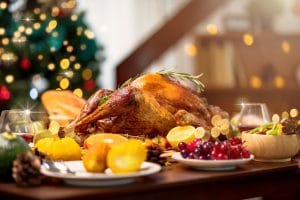 With the big day just around the corner, you're probably busy planning your meal or a big trip to see family and friends. Amid all this hustle and bustle, we don't want you to forget about your smile! In today's blog, your Richfield, MN, dentist has a few tips to help protect teeth of all ages from cavities and stains, as well as other serious oral health issues.
Cavities, Gum Disease, and Teeth Stains
Many of our holiday favorites can have a negative impact on our overall oral health. For example, sugary foods, like pies, cakes, and cookies, and starchy goods, like stuffing, biscuits, muffins, and sweet potatoes, can leave behind particles trapped between the teeth. Once bacteria begin breaking down these particles, the teeth become coated in plaque buildup. Over time, plaque weakens and erodes the enamel, causing cavities to form. The buildup also inflames gum tissue, increasing the risk of gum disease. Plaque has also been known to make teeth stains more apparent.
Healthy Habits
To limit these impacts on your smile, be sure you drink water to help cleanse your mouth during meals. You can also add a few fresh veggies, like broccoli and carrots, to your plate. These items can often help help scrub away plaque as you eat them. When your meal is over, be sure you floss between your teeth to remove trapped food particles. We should floss every night before bed to help protect our oral health. We also need to brush daily for two minutes, once when waking up and again before going to bed.
Schedule A Visit
Be sure to schedule a visit for a check and cleaning as well! Schedule one now, before the Christmas season is in full swing. We can examine your smile to see if you need treatment, and also clean your teeth to reduce the risk of cavities and gum disease, while also offering a brighter smile in the process. You also have a chance to use your 2019 dental insurance benefits before they expire! If you would like to schedule your next visit, give our office a call. We would love to help you end the year with a healthier smile, and offer tips for safeguarding your teeth and gums at home. We can answer any questions you may have as well.
Ready for a Checkup and Cleaning?
We want to make sure you and your family enjoy optimal oral health this year and in the next. We also have cosmetic and restorative care to improve smile beauty and address a number of serious concerns, like cavities or even dental infections. To find out more our approach to family dentistry, then schedule a consultation with Dr. Keller by calling Cedar West Family Dentistry in Richfield, MN, today at (612) 861-7188.