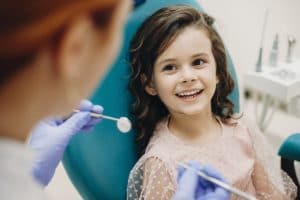 We know that dental health and hygiene is not just a concern for adults, but for children, too. Even if your child is practicing good oral hygiene, attending regularly scheduled checkups is still important. Today, your Richfield, MN,dentist will explain the importance of kids' checkups, and how you can set a good example for them!
Why Kids Need Checkups
Kids checkups are an essential part of maintaining healthy oral hygiene habits from a young age. Even if your child is diligent about brushing and flossing their teeth, dental visits are imperative to ensure that their teeth, jawbones, and gums are developing properly. We recommend that your kids begin regular dental visits around three years old so we can track their growth and help teach proper smile care.
Common Dental Issues in Children
Tooth decay is one of the most common dental issues affecting children. Cavities begin when the bacteria in the plaque coating their teeth feeds on sugar and releases acid. Since plaque is sticky, this acid adheres to the teeth, causing decay and, eventually, cavities. While the common suggestion of watching and limiting your child's candy consumption can certainly help with this issue, getting regular cleanings at the dentist's office is the best way to help keep plaque at bay and keep an eye on any areas where decay may be likely to occur.
Modeling Good Behavior
Of course, children learn best by example. We recommend twice-yearly checkups for children as young as three all the way through adulthood, and you can get your children acquainted with the dentist's office by bringing them along to your appointments when they are even younger. The visit is far less scary  when your guardian is going and getting their teeth cleaned, too, so help us erase the fear and stigma around dental visits by showing them how it's done! While we can help your children in-office, you still need to model healthy habits for them at home by brushing twice daily, flossing at least once daily, and eating healthy, balanced meals. Together we can help create and maintain good dental hygiene habits that can prevent future issues for your kids and teach them how to properly take care of their teeth. If you have any questions about children's dentistry or proper homecare, then please contact our team today.
Time for a Checkup?
In our office, we encourage you to bring your kids for regular checkups and to model healthy behavior by attending your own and encouraging them to practice good oral hygiene. If you or your child are due for a visit, schedule a consultation with Dr. Keller by calling Cedar West Family Dentistry in Richfield, MN, today at (612) 861-7188.