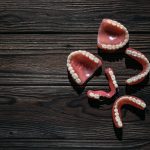 Minor tooth loss can be addressed with dental bridges or partial dentures. But what if you've lost most of your teeth, or all of them? In today's blog, your Richfield, MN, dentist will explain how our complete dentures offer a full and lifelike smile again, so you avoid complications and enjoy your favorite foods once more!
The Factors Behind Total Tooth Loss
How do we lose the majority of our smile in the first place? There could be a number of different factors, including injury, tooth decay, and dental infection. However, the most common cause in adults is actually periodontitis, the advanced stage of gum disease. According to the Centers for Disease Control, half of adults aged 30 and older suffer some form of periodontal disease. In the advanced stages, this destroys the tissues connecting your teeth and gums, leading to adult tooth loss!
Designing Your New Smile
First, we need to assess the factors behind your tooth loss. For many, we may need to treat underlying oral health issues first. After all, periodontal disease could complicate implant placement, so care to manage it could help your new smile stay in place longer. Afterward, we will take detailed impressions and images of your smile with advanced digital technology. These images enable us to design and craft a set of dentures in a lab setting. The custom nature of each one means they fit comfortably, providing a balanced bite and a lifelike appearance. You can once again eat your favorite foods and smile with confidence!
Removable and Implant Supported
Each complete denture consists of an acrylic base that looks like gum tissue, as well as a full row of lifelike teeth crafted from materials like ceramic. We will design them to reflect your facial structure and look natural. For removable dentures, suction or a special adhesive will keep them in place. For greater stability and a longer-lasting prosthetic, our team could secure the prosthetic with multiple dental implants. The implants act as new roots, so your jaw ridge won't change shape with time and you won't have to replace the denture every 5 to 10 years. Instead, they will be fixed in place, never slipping when you eat or speak, and staying in place for decade sot come, possibly even a lifetime. If you have any questions about how we approach treating advanced or total tooth loss, then contact our team today.
Your Richfield, MN Dentist's Office Addresses Missing Teeth
At our Richfield, MN dentist's office, we're ready to help you enjoy a complete smile with a lifelike dental prosthetic. To find out more about the process of addressing your tooth loss with a complete set of prosthetics, then please call Cedar West Family Dentistry at (612) 861-7188.