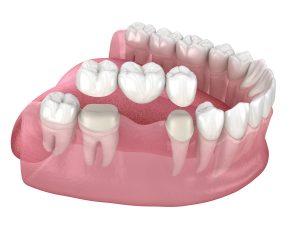 When you lose a tooth, this gap could seem minor but eventually cause major complications to your smile's health and stability. To address a minor case of tooth loss, then your Richfield, MN, dentist may suggest creating and placing a custom-made dental bridge. In today's blog, find out how this helps restore your smile!
The Impact of Tooth Loss
When you lose one or more of your teeth, this could cause more than just cosmetic complications. For example, for some trouble eating could develop, and speaking clearly could be an issue as well. For others, the gap could cause teeth to drift from position. This means misalignment occurs and with it, a greater risk of tooth decay and gum disease in addition to changes to smile beauty. The presence of the gaps could also mean the onset of TMJ disorder and bruxism (teeth grinding). To avoid these issues, you should talk to our team about a prosthetic right away.
Crafting a Prosthetic
When you have between one and three missing teeth in a row, we could recommend a bridge. To start the process, our team will first remove structure from the teeth on either side of the gap. We refer to these as abutment teeth. Next, a series of digital images will be taken. We use the images to create a 3D model and craft the bridge. The prosthetic will contain new teeth with crowns attached to each end. We simply place the crowns onto the abutment teeth, which secures your new ones in place firmly. You avoid misalignment and will be able to eat and speak without difficulty. The ceramic we use to craft the crowns and replacement teeth will ensure we can color-match them to blend with your smile!
Keeping Your Bridge Secure
A dental bridge can last up to 15 years in some cases! To ensure they do, be sure you brush and floss daily, including in and around your prosthetic. You should also clean the space between the top of the gums and the bottom of your bridge, where food particles could become trapped. Make time to see us too! A checkup lets us keep an eye on your new teeth, and a cleaning removes the buildup that could cause a cavity or gum disease to develop.
If you have any questions about how we tackle your missing teeth, or if you have gaps in your smile that need attention, then contact our team today to learn more.
Talk To Your Richfield, MN Dentist About Dental Prosthetics
Don't hide your smile due to an embarrassing gap, talk to our team about a prosthetic. To find out more about how we address cases of minor tooth loss, then contact your Richfield, MN, dentist, Dr. Keller, by calling (612) 861-7188.