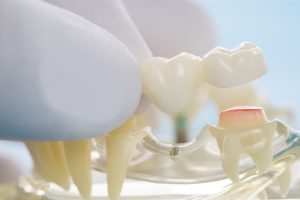 When you lose one tooth, or up to three in a row, you may not benefit from full or partial dentures. However, we have a lifelike prosthetic that addresses minor tooth loss! In today's blog, your Richfield, MN, dentist will discuss how we design and place a set of natural-looking and durable dental bridges.
The Causes of Adult Tooth Loss
Why do we lose our natural teeth in adulthood? The factors vary, but could include untreated decay or infection or possibly injury. However, the most common cause is untreated periodontal disease. When the disease reaches the later stages, this could cause the tissues that connect the teeth and gums to become severed, leading to loose or missing teeth. When we examine your smile, we will take a close look at your smile to identify the factors behind your missing teeth. That way, we can also address any underlying oral health issues, preserving the result of your smile!
Designing a Natural-Looking Dental Prosthetic
Our team will treat any underlying issues to prevent tooth loss, and then take detailed images and impressions of your smile. The images allow us to design a prosthetic in a dental lab setting with precision and accuracy. We also employ strong and lifelike material, such as porcelain. Not only will they contain stain-resistant materials, but they can absorb bite forces and be color-matched to blend with your smile. Your prosthetic will consist of one or more pontics, the term for replacement teeth. We will attach crowns to either end.
Placement
Prior to gathering the digital images we mentioned above, we will remove structure from the teeth on each side of the gap in your simile. Doing so makes room for the crowns, which we attach to the abutment teeth. This secures the new ones firmly in place. With proper care and attention, your dental bridge could last as long as 15 years, and provides a durable and lifelike solution for minor tooth loss. We could also recommend treatment to manage issues like gum disease and safeguard the rest of your smile.
If you have any questions about how we approach treating missing teeth, then please contact our team today. We're ready to help you enjoy a complete smile once again, one that cannot wait to show the world.
Do You Need a Dental Prosthetic?
With a dental prosthetic, we have a strong and attractive solution for minor tooth loss. To find out more about the process of replacing missing teeth, then please call Cedar West Family Dentistry at (612) 861-7188. You can also find us at 1537 E 66th Street, Suite #101 Richfield, MN 55423. Our team knows how to design and place lifelike and durable options, so you enjoy optimal oral health for years to come.