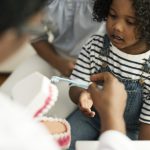 Checkups and cleanings are not just for adults! In fact, children as young as age one could benefit from one, and they're essential for keeping little smiles strong and healthy. In today's blog, your Richfield, MN, dentist talks about how we provide care for kids of all ages, and when you should bring your child in for a visit. With routine care each day, your little ones can maintain their healthiest smile all summer long!
Checkup Visits
When we see your child for an exam, we use advanced digital technology to look for signs of common oral health issues, such as cavities or gingivitis. We also make sure the baby teeth are falling out on schedule, and that permanent teeth are erupting as expected. These visits are also an opportunity to instill good oral health habits and educate our young patients, and also lower dental anxiety as they will become accustomed to seeing the dentist! We suggest an initial visit at age one, and routine checkups and cleanings every six months starting at age two.
Keeping Little Smiles Clean
During these visits, we also help clean little smiles too! A cleaning means we use an ultrasonic scaling device and a manual tool to break up and remove all plaque buildup. The procedure helps brighten teeth and freshen breath, and also lowers the risk of common issues such as tooth decay and gum disease. We will also discuss proper brushing and flossing habits in between these visits to help keep little smiles strong and healthy. Between proper homecare and regular six month visits, you can help your kids enjoy their best smile!
Fluoride and Dental Sealants
To help protect children from issues like tooth decay, we also have special preventive treatments! For example, every six months when your child visits us for a checkup, we will apply a fluoride varnish to strengthen the outer enamel. The risk of tooth decay then lowers significantly. We also have dental sealants! We dry the rear teeth and apply a special plastic coating. The coating then prevents food from becoming stuck between the molars, which are hard for kids to reach when they brush and floss. This also helps lower the risk of cavities forming and keeps smiles healthy and strong.
If you have any questions about our approach to children's dentistry, or if you would like to schedule a visit for your little, then please contact our team today!
Your Richfield, MN Dentist's Office Provides Children's Care
At our Richfield, MN dentist's office, our team is ready to help kids of all ages enjoy their best possible smile. To find out more about how we approach children's dentistry, then please call Cedar West Family Dentistry at (612) 861-7188.