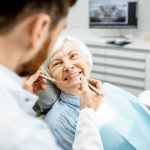 We want to see your entire family every six months to have their teeth and gums examined. A checkup may seem like a very minor procedure, one that could easily be skipped, but an exam is vital for the continued health of your smile. In today's blog, your Richfield, MN, dentist talks about how we examine your smile.
The Checkup Process
First, we want to sit down and take a good look at your smile. The checkup means in addition to visually examining your teeth and gums, we also implement advanced digital technology, such as digital x-rays and intraoral cameras. These clear images are available instantly chairside, so we can help you better understand the state of your smile and walk you through the diagnostic process. With detailed images of the outer structures, as well as the roots and oral structures, we can identify common issues in the earliest stages. For adults, we look for cavities and gum disease, as well as TMJ disorder and bruxism (teeth grinding). We also screen for oral cancer too!
Kids Need Exams Too!
We also start offering six-month checkups for kids at around age two, following their initial exam at age one. We want to make sure baby teeth fall out on schedule, and that permanent teeth erupt properly with misalignment or impaction. We also look for signs of tooth decay and gingivitis. The earlier we identify these issues; the sooner can offer treatment to protect the smile and even guide its growth and development. Your child could be less likely to need orthodontics and more extensive care in the teen and adult years! Speaking of teens, we also watch out for the wisdom teeth, extracting them as your child reaches adulthood to prevent painful impactions and other complications.
Keeping Smiles Strong In Between Visits
Home care is also essential for people of all ages. Kids and adults alike need to brush when they wake up and cone again before bed. Everyone should use a small amount of fluoride toothpaste, and a toothbrush with soft bristles. Make sure you're cleaning your teeth for at least two minutes! Flossing before bed is essential as well. Try to cut back on foods and drinks high in sugar and starch, as these could prevent issues like tooth decay. If you have any questions about keeping smiles healthy and whole through your child's life and into adulthood, please give us a call today. We what to help everyone in our community enjoy their best possible smile!
Your Richfield, MN Dentist's Office Provides Preventive Care
At our Richfield, MN dentist's office, we want to help your entire family maintain optimal oral health. To find out more about our approach to preventive and general dentistry, then please call Cedar West Family Dentistry at (612) 861-7188.