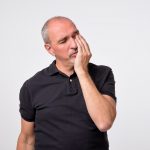 When you have regular pain in your smile, or persistent tooth sensitivity, then you need to see your dentist. In today's blog, your Richfield, MN, dentist wants to explain what a toothache could mean, and why seeking treatment quickly could help prevent major complications, and even tooth loss!
The Causes of a Toothache
For some, an ache that lasts only a few hours could mean sinus infection, allergy issues, changes in elevation, or even a cold. But if you have a toothache or sensitivity that lasts for more than a day, you likely have a cavity that need attention. Cavities form when bacteria move past the outer enamel and reaches the inner dentin, which could be caused by poor oral hygiene habits and a diet high in sugar which promotes plaque buildup and weakens the protective layer of enamel. An injury to the tooth, or teeth grinding, could also leads to cavities. Unless treatment, your toothache could mean you risk infection or in extreme cases, even the loss of one of your teeth!
Fillings, Root Canals, and Crowns
For most cases of tooth decay, our team could create and place a lifelike and metal-free filling made from composite resin, which we shade to match your smile. The process takes one visit, and prevents further complications and offers relief. For an advanced cavity, we could use a root canal to extract infected tissues and then use a crown to cap the tooth. Again, we take steps to ensure the crown looks natural and blends with your smile. Afterward, we could discuss better home habits, and recommend a  visit every six months for a cleaning that removes plaque, all to prevent future cases of tooth decay.
Treating Teeth Grinding 
We also mentioned bruxism, or chronic teeth grinding. When we grind our teeth, this could eventually weaken enamel or chip and crack a tooth, leading to discomfort. With dental bonding, we use the same composite resin we discussed above. With crowns, we can repair damage. An oral appliance could be used to prevent damage from bruxism and offer relief from this disorder. If you have any questions about the process of avoiding toothaches, or if you have pain in your smile that needs attention, then please contact our team today. We want to help you and your family enjoy optimal oral health, with a smile free of discomfort.
Your Richfield, MN Dentist's Office Offers Solutions for Aching Teeth
At our Richfield, MN dentist's office, we know the importance of keeping smiles strong and healthy, and addressing discomfort quickly with quality, personalized care. To find out more about how our team treats the sources of your discomfort with general and restorative dental care, then please call Cedar West Family Dentistry at (612) 861-7188.