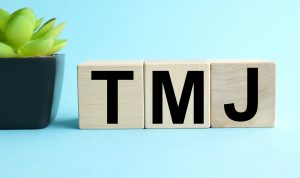 Do you often suffer from headaches or migraines? A number of factors could be responsible, including one related to your smile. In today's blog, your Richfield, MN, dentist explains how TMJ treatment for TMJ disorder, also known as TMD, could help ease uncomfortable headaches and restore balance and health to your smile.
The Link Between TMD and Headaches
You have a set of joints that connect your jaw and skull known as the temporomandibular joints. Without these, you would be unable to move your jaw to eat or speak. However, when these joints undergo excessive strain, this could lead to a disorder known as TMD. Over time, TMJ disorder could cause problems opening and closing your mouth, and could be caused by issues that upset your bite balance, such as misalignment, injury to the face or jaw, stress, or tooth loss. Warning signs include headaches and migraines, as well as jaw pain, facial aches, discomfort in the neck and shoulders, and even a popping or clicking sensation in your jaw. If you encounter one or more of these commonly reported warning signs then please let us know right away.
Connections with Bruxism
Untreated TMJ disorder could also increase the risk of a disorder known as bruxism. With bruxism, we grind and clench our teeth frequently at night and over time, this pressure could wear down tooth structure or even crack and chip a tooth. The damage then exposes sensitive inner tissues in the tooth, increasing the risk of painful cavities and infection.
Oral Appliance Treatment  
We start the treatment process with a thorough dental exam, employing advanced digital technology to carefully look for signs of wear and friction, as well as other potential indicators of trouble. We then create a treatment plan to correct the issue and possibly repair any damaged teeth. For example, orthodontics could be used to correct misalignment and placing a custom crown may restore bite balance.
However, we often use the digital images and measurements we gather to craft and custom-fit an oral appliance. The appliance is then worn at night like a mouthguard, fitting comfortably and also repositioning the jaw to ease strain and prevent symptoms. If you grind your teeth, the appliance puts a barrier between the upper and lower sets to prevent further injury. If you have any questions about treating bruxism and TMD, or if you would like to make an appointment, then contact our team today.
Your Richfield, MN Dentist's Office Offers A Preventive Solution
At our Richfield, MN dentist's office, we're ready to help you maintain a healthy and comfortable smile. To find out more about our approach to restoring jaw joint treatments, then please call Cedar West Family Dentistry at (612) 861-7188.