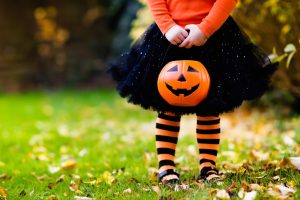 Halloween is fun for everyone, but too many sweets from your trick or treating adventure could cause the onset of tooth decay. We want you to enjoy your spooky fun without putting your smile at risk, which is why we have a few helpful tips. In today's blog, your Richfield, MN, dentist discusses what kids and adults alike can do to avoid tooth decay.
The Causes of Tooth Decay
We love our spooky treats as much as anyone, but we also know that the particles of sugar left behind when we consume them could provide a meal for harmful oral bacteria. What follows is a rise in oral acidity, and the teeth becoming coated in plaque and tartar buildup. This buildup actually begins to weaken and erode the outer enamel. As this happens, tooth decay forms once bacteria make contact with the inner dentin. The cavities will grow severe unless treated, and could mean infections for kids and adults alike. To avoid painful symptoms and poor oral health, steps should be taken to keep teeth safe!
Tips for Avoiding Tooth Decay
First, moderation is key. Don't binge your sweets, instead enjoy a piece of two after a meal, and wash it down with water to help rinse the particles of sugar away. You could also avoid pieces that are especially chewy, such as caramel and taffy, as they cling to the teeth. Hard candies could be risky as well, as it takes a while to consume them, giving them a chance to coat the teeth in sugar particles and to potentially chip them too. Families could also protect smiles by letting kids choose a few favorite pieces and trade the rest for a new toy or other fun prize. If you're handing out handy, then try to opt for items with less sugar, such as individually sealed containers of trail mix, nuts, or sugar-free gum. Party favors with a Halloween theme are fun too, such as stickers, toy skeletons, rubber bats, or spider rings.
Valuable Oral Hygiene Habits
To help protect teeth of all ages from cavities, make sure each day involves brushing for two minutes in the morning and at night, and always with a fluoride toothpaste. Every evening we all need to floss as well. An appointment for a checkup and cleaning is helpful too, and scheduling one now means avoiding the schedule conflicts during the holiday season. If you have any questions about keeping smiles healthy during Halloween, then contact our team today.
Talk To Your Richfield, MN Dentist About Preventing Cavities
We would like to help you and your children stay free of cavities. To find out more about the steps for reducing overall cavity risk, then contact your Richfield, MN, dentist, Dr. Keller, by calling (612) 861-7188.